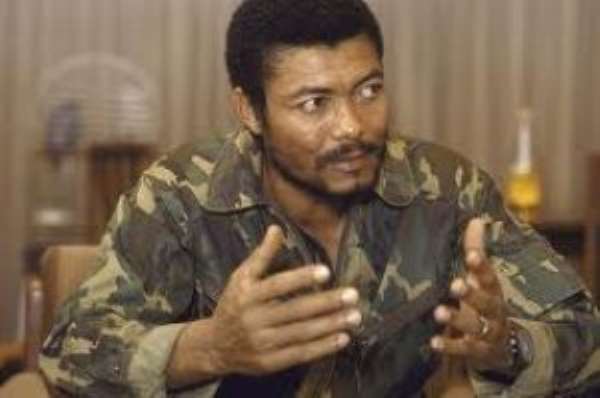 Fellow Ghanaians:

As some Ghanaians across the globe today (4th June 2013 ), reflect on the 34th Anniversary of Ghana's revolution led by the then Flt. Lt. Jerry John Rawlings , many are those that hold a distorted view of the events on that fateful day. But, the fact remains the same and one would not need the Supreme Court to see or understand the sentiments of Ghanaians prior to the June 4th 1979 revolt and why it was necessary, regardless of the collateral damage.
It is only fair to note that, many of the young people of that era, (myself included) , were all fed up with seeing the rich get richer and the poor getting poorer, and just to add salt to injury also have a leadership that were busy playing musical chairs with the military Coup d'ëtats of that era., the Acheampong regime being over-thrown by the Akuffo regime (no relation to Nana Akuffo Addo) and so on, without giving a hoot about the average Ghanaian and what he or she has to go through to make ends meet, this made Ghanaians worse off either way you look at it. So on that fateful day (4th June 1979), when news blared off the radio and television airwaves that Flight Lt Jerry John Rawlings and the Armed Forces Revolutionary Council (AFRC) had taken over the reigns of government, little did the old lady on her way to work in Accra know that Armed soldiers were all over the place scrambling to take control of strategic parts of the country. On some of the deserted streets of Accra while walking to her office, she heard people screaming at her saying she should get off the streets because there were shootings all over the place and some trigger happy soldiers weren't doing the core mission of the revolution any good at all with their indiscipline actions.
Though she managed to get to her family house in Accra only to join the rest of the family glued to the Radio , trying to make sense of what was going on. She wasted no time to say, 'I do not know who this Jerry John Rawlings is, but by the sound of his voice through the words that were blurting over the radio, I can tell he has Ghana at heart, and all the things he is saying is what we all feel but don't dare to speak out '.
Today at 78yrs old, she still continues to say that we all have a Jerry John Rawlings in us, and by this she means, everyone hates injustice but few dare themselves to stand up against it.
Ghana, over the years have failed to create a National Agenda or National Dialogue that could be embraced by Ghanaians from across the political spectrum because greed has taken over , and the proper lack of accountability has corrupted the Ghanaian so much so that indeed it would take another Revolution to reset our hearts and minds back on to the track of self reliance., and the ability to hold each other accountable for our collective safety, security, development etc . Various schemes and strides can be measured over the 34yrs , and Ghana today though matured, is still crawling like a toddler with no sense of direction.
To our political Leaders of today, the question on everyone's mind and heart is this, Do YOU really care about us (Ghanaians )???????? And if the answer to that is YES OF COURSE, they on this day we dare you activate the JERRY JOHN RAWLINGS MODE, become self-less, show the less fortunate how much you care about their lives, teach and empower us to be controllers of our own destiny , take of the shameful 'DE WU FIE ASEM' clothe and understand that we are all in this together, because Kofi's failure would be Ama's agony and vice versa therefore Kofi's success is our collective success. Let's understand that the OBIA ENYE OBIAA syndrome that engulfed the minds of people , is more damaging to our psyche than anything else because OBI YE OBI and that's just that, we all do matter.
Fellow countrymen/women, it is my wish and the wish of that 78yr old woman, that we all as Ghanaians, all start to reflect on why people have become this bitter , scornful, insulting, etc and at the same time fill church auditorium each Sunday praising and proclaiming our love for God when cant love one another nor be each other's keeper. With all the natural resources Ghana beholds, it would take a true LEADER to dare himself or herself to activate the 'JERRY JOHN RAWLINGS' mode and become self-less to the public service of the nation. Politicians would have to understand that good governance is not about the color of your 4x4 car, nor is it about the mansion you live in, but rather about your ability to connect with all Ghanaians from all walks of life to make them feel that you hold their best interest at heart. The true responsibility of National interest first, should be the mantra of every Politician that is not looking to enrich himself or herself.
To the Ghanaian youth of today, l say, my heart truly goes out to all of you , because many of the leadership of our great country Ghana has failed to understand the challenges you face in this 21st Century, and thereby lost touch with maintaining a dialogue of developmental change aimed at securing a better future for us all. The lack of jobs, health-care, coupled with high cost of living, where prices of goods lack the proper pricing regulations etc are all that led to the June 4th 1979 revolution. Ghana would not set itself back, but its time we start a whole new revolution of AWARENESS to how we got ourselves in this predicament where corruption is the new air we breath. I take this opportunity to invite all Ghanaians ready , able and willing to contact me at : [email protected] to begin the creation of our collective REVOLUTION to transform the Ghanaian mindset to the level of Awareness and Accountability. This journey would need everyone's involvement, school-dropouts, laborers, hair-dressers, taxi drivers, trotro drivers, the un-employed , teachers , etc etc , if you have a friend , brother or sister, father/mother, relative, etc who feels sidelined by the current state of affairs in the country today, then l urge you contact us by email or ask him or her to contact us, and together that effective forum of awareness would be formed to charge the policy makers of our beloved Ghana to dare themselves to Activate the JERRY JOHN RAWLINGS mode in them , fear of that or inability to do so shows the level of your own corruption and greed.
Ghana's new revolution of Awareness is partnered by all the donor countries, who have been singing the 'stop the corruption now' song.
God bless all Ghanaians.
Editor's Note:
N. Kwafo
[email protected]