Germany promises Tunisia investment for reforms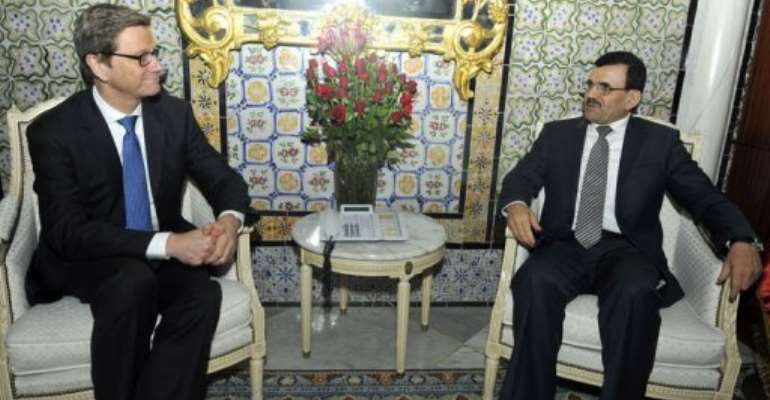 TUNIS (AFP) - German Foreign Minister Guido Westerwelle pledged Tuesday further investment and aid for Tunisia if it stays on track in turning its Arab Spring revolution into a democratic success story.
Westerwelle, representing Europe's top economy, was the first Western minister to meet Prime Minister Ali Larayedh since the moderate Islamist took office on Thursday amid continued unrest in the north African country.
"Violence, extremists and fanatics must not form the image of Tunisia but rather respect, democracy, the rule of law and tolerance and we want to help," Westerwelle told reporters.
"I am not here to give ultimatums but to express friendship, solidarity and support. But it is obvious -- the more stable, reliable and democratic the development of the country, the easier it will be for European and German investments to come to Tunisia."
Tunisian Foreign Minister Othmane Jarandi said the country sought "economic support from its friends" because its needs were "very urgent and extensive".
He said he hoped Germany's backing would send a message to "other friendly countries" to trust and support the new government "in this important phase".
Tunisia, the first Arab Spring country to experience regime change, was plunged into turmoil last month by the murder of leftist opposition leader Chokri Belaid, an outspoken critic of the ruling Islamists.
Belaid's assassination deepened a political crisis in the country two years after ex-dictator Zine El Abidine Ben Ali was toppled in a 2011 popular uprising that touched off revolutions throughout the region.
Larayedh, who leads an uneasy coalition between the Islamists and two secular parties, has pledged to end the upheaval this year by adopting a new constitution, organising elections, creating conditions for a revival of the economy and restoring security.
Westerwelle, who also held talks with the opposition on his fourth trip to Tunisia since taking office in 2009, called Belaid's killing a "serious setback" but expressed hope that the country could press on with reforms.
"Revolutions can bring setbacks but they need strength for a new beginning and strategic patience. We stand by Tunisia and the reason I came so soon for talks with my new Tunisia interlocutors is to say that Tunisia is not alone," he said.
"We, as a country that had its own revolution just over two decades ago, feel solidarity and want Tunisia to succeed," he said, referring to the peaceful uprising that brought down the Berlin Wall in 1989 and led to German reunification a year later.
Germany in 2012 contributed a total of 267 million euros ($346 million) in development aid, debt relief and project subsidies to Tunisia under a "transformation partnership" it has launched with a handful of Arab Spring countries.
Westerwelle called for the further opening of the European market for Tunisian products, and expressed hopes for a revival of key industries such as tourism.
"People in Tunisia want jobs and that requires investment. Investment from Germany and Europe depends largely on work toward democratic stability and reconciliation, and on a timely implementation of the constitutional process and elections," he said.
Westerwelle's trip came ahead of a visit by Tunisian President Moncef Marzouki this week to Berlin where he will meet Chancellor Angela Merkel as Germany seeks to bolster ties with a country it sees as crucial to the democratisation of the region.
The foreign minister delivered Larayedh a personal invitation from Merkel to visit Germany "as soon as possible".