Nigeria president pardons corrupt ex-governor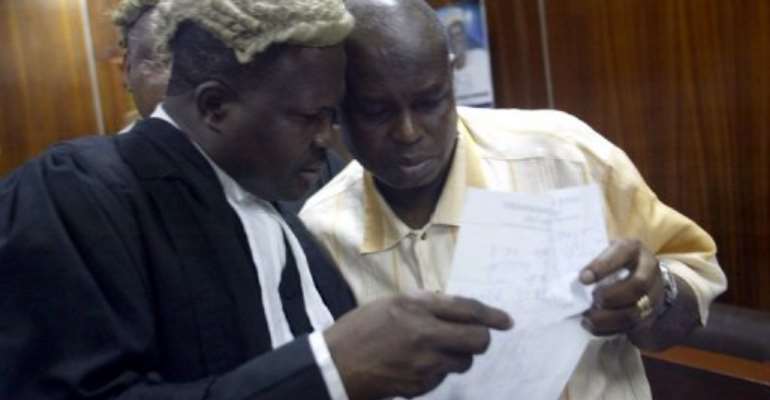 LAGOS (AFP) - Nigeria's president has pardoned a close political ally who admitted to embezzling millions of dollars of public funds while serving as governor of an oil-rich state, an official said Wednesday.
Ex-Bayelsa state governor Diepreye Alamieyeseigha was President Goodluck Jonathan's boss when the Nigerian leader served as Bayelsa's deputy governor, and the two are still considered very close.
Alamieyeseigha was arrested in 2005 amid various allegations including that he built himself private mansions with state funds.
He pleaded guilty to money laundering in 2007 and was released from custody days later after a court ruled that his time served amounted to sufficient punishment.
Alamieyeseigha's presidential pardon carries several benefits, including having a clean criminal record and the ability to run for office again.
Jonathan's spokesman Doyin Okupe called on Nigerians to respect the pardon decision taken "by the topmost echelon of leadership in this country", even if it was unpopular.
"It may not be palatable to everybody. It may not be acceptable to everybody, but that is the leadership of the country and that is what they have done," he said Wednesday in an interview with the private Channels television station.
Seven others were also pardoned.
Before his detention in Nigeria, Alamieyeseigha had been arrested in Britain in 2005 on charges of having laundered more than $3 million (2.3 million euros).
After getting bail in a British court, the ex-governor fled, with several foreign media outlets reporting that he evaded authorities by dressing as a woman, a detail that has never been confirmed.
He was impeached by Bayelsa's state assembly and arrested in Nigeria shortly after his escape from Britain.
Nigeria, Africa's most populous country and top oil producer, is seen as one of the world's most graft-ridden nations, where powerful leaders implicated in massive corruption scandals often evade severe punishment.
The former governor of oil-producing Delta state, James Ibori, is currently serving a 13-year sentence in Britain after being convicted of fraud amounting to $70 million.