Scotland : Celtic Glasglow punishes the Nigerian Efe Ambrose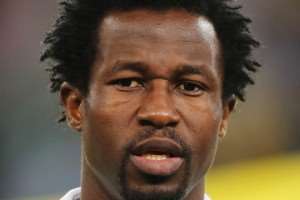 Beaten by Juventus (2-0) Wednesday at the 8th-final second leg of the Champions League, Celtic will not continue the adventure.
Neil Lennon has explained how Efe Ambrose "let himself down" after the Celtic player was fined for arriving late at a training session before the Champions League meeting with Juventus on Wednesday.
Lennon ordered the team bus to leave their Turin hotel on the morning of the game after Ambrose failed to appear. The Nigeria defender subsequently got a taxi to the session but started the match, which Juve won 2-0, among the substitutes.
"He has just let himself down," Lennon said. "He was 10 minutes late and we left without him because he's only got to get out of his bed, walk down and get on the bus.
"Anyway he has been disciplined for it. Whether he would have started the game or not has nothing to do with what happened. We were of a mind to go with Victor Wanyama and Kelvin Wilson at the back anyway, just to give us that stability, and to be fair to the two of them I thought they were excellent."
When it was put to Lennon that Ambrose owes his manager some decent performances, he replied: "He owes me a fine as well. He's going to be a few quid out of pocket by the end of the week."
Ambrose should have scored with headers for Celtic in both legs of the last-16 tie; Juventus ultimately progressed 5-0 on aggregate. That wastefulness in front of goal was also not lost on Lennon.
"If Ambrose could head it then both ties would have been different," he said. "I mean, he's missed another one from four yards out. That would have made the game one each. I didn't expect to win the tie, but at 1-1 you think: 'Can we go and win the game now?' But it wasn't to be."
Lennon refused to read too much into Ambrose's exertions at the recent Africa Cup of Nations. Upon returning from the tournament in South Africa, Ambrose was immediately culpable for two Juventus goals in Glasgow and earned criticism for his performance from one of his team-mates, Kris Commons.
"Efe is a fit boy," Lennon said. "To be honest, in the African Nations, I think he played three, four games because he got suspended in one anyway. He played more or less the same amount of games as everybody else so you can't use that as an excuse.
"After Juventus [in Glasgow], he came back and scored two goals in two games for us. He's just tailed off a wee bit so maybe there's a little bit of mental fatigue rather than physical fatigue. There's no serious issue there."
Reflecting on Celtic's European run, Lennon was far from downbeat. "There were so many question marks hanging over my head, even when I took the job," he explained. "'Rookie manager' was thrown at me for a long time. Once you win the league, that gives you a bit of comfort in a job like this.
"Then obviously the qualification into the group stages was massive. I felt we had a good enough team to compete and we have certainly done that."