Re: Dear Godswill Akpabio: You Are Slowly Digging Your Political Grave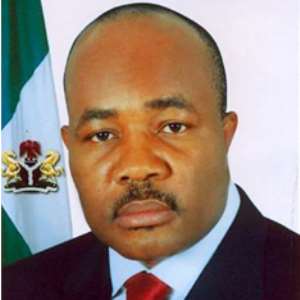 Governor Godswill Akpabio
"No one campaigns for vice presidency. Selecting a candidate for such a position is often based on the quality and the character of a person. If you are good, a potential presidential candidate will seek after you." - Thompson Essien
Thank you for disassociating the entire people of Akwa Ibom State from the treacherous attitude of Godswill Obot Akpabio. I apologize to Governor Amechi and all others of Gov. Amechi's rank, and also to those below that rank, whom Godswill Obot Akpabio has insulted and/or betrayed; and plead with them not to allow it cross their minds that we, Akwa Ibom State citizens, are in anyway, shape, or form, like Godswill Obot Akpabio.
There is a saying (and it has stood the test of time) that those whom the gods want to destroy they first make mad. In line with that English proverb is our own adage - "ubok ukpobo nsung ase okpobo okwok".
It is a good thing that Godswill Obot Akpabio has now taken his divisive and insidious tactics to the national stage.
The people of Akwa Ibom State have been too silent, and acting in their unusual manner, which has denied them recognition at the national level, they have bowed down to the corrupt excesses of Godswill Obot Akpabio, willingly and silently, while wishing and praying for a Moses to rescue them from Godswill Obot Akpabio's dictatorial whim, caprice, and criminality. They are yet to learn that heaven helps those who help themselves.
Too afraid to stand up for their rights, majority in Akwa Ibom State have bowed down to the evils perpetrated by Godswill Obot Akpabio and his henchmen; which has brought insecurity, pain, and death to thousands in Akwa Ibom State. Hunger is everywhere; Godswill Obot Akpabio uses the people's money to bribe whoever is willing to take blood money from him; while the people groan and pray.
They are yet to understand that the same lips with which they use in answering "yes sir" submissively, to Godswill Obot Akpabio is the same lips with which they pray to God for restitution, deliverance and rescue. Let them ponder in the secret recesses of their minds if God can answer prayers from such lips. This is the truth that their false pastors will never reveal to them because they too do not know.
The people of Bayelsa, Rivers, and Delta stood up to the MIGHT of a corrupt and cheating Federal government. They slept in creeks and in boats, fought and harassed the agents of the Federal government.
To pacify them, Olusegun Obasonjo appointed someone who kow-towed to a few powerful men like Obasonjo, (as Godswill Obot Akpabio is now kowtowing to Goodluck Jonathan), to the vice-presidency of the nation.
I want to point out here that your quote which I have outlined above is not entirely correct - if Goodluck Jonathan had character he would have remembered the treachery of Godswill Obot Akpabio towards him in the days when the nation tottered on the brink of collapse during President Yar'Adua'a absence, secretly closeted by men and women like Godswill Obot Akpabio for their over-ambition to rule Nigeria.
Today, bribed with money from the Treasury of Akwa Ibom State, Goodluck Jonathan has drawn closer to and listened to, and done Godswill Obot Akpabio's bidding. Goodluck Jonathan has turned against people who have whispered the truth about him to the hearing of a few. He has forgotten all who helped him justly to the Presidency. All he remembers is the unjust help he received and is still receiving from men and women in Godswill Obot Akpabio's mold.
Goodluck Jonathan has forgotten so soon that Turai Yar'Adua and her elements stood between him and the Presidency until well-meaning Nigerians, Governor Amechi one of them, prevailed against the forces of darknessmarshaled by Turai Yar'Adua and her servant-masters. Goodluck Jonathan has turned his back to the suffering masses in Akwa Ibom State to embrace someone whom he knew to be a traitor - Godswill Obot Akpabio - during those trying days.
Goodluck Jonathan has forgotten that the blood of HUNDREDS of Ibibio people in Akwa Ibom state is still crying and waiting for JUSTICE. He has forgotten that Nigerians from the creeks of the Niger Delta to the streets of Ikot Ekpene and Uyo, to the streets of Maiduguri and Kano, to the streets of Abuja and wherever else death and destruction has been visited still cry to God daily for JUSTICE.
In Goodluck Jonathan's mind, power is everything. So believes Godswill Obot Akpabio, his new-found friend, mentor and financier. Both men have become birds of the same feather. Anyone that rooms with Godswill Obot Akpabio rooms with evil; but Goodluck Jonathan may be thinking that he can obtain from evil what he needs from evil without being affected by evil.
He would be the first to so succeed anywhere in the world. A person who has shown himself to be made in the mold and character of Godswill Obot Akpabio cannot be thought of as a person of good character.
Men of good characters do not snitch against others for political or economic gain; when God-fearing people snitch, it is usually for a good cause as in pointing out armed robbers, rogues, kidnappers, cultists, and murderers in a society. Such snitching , if it could be called snitching at all, BENEFITS the society.
When evil men snitch, they do so for their own gain. We all know that, that is what Godswill Obot Akpabio did. And one can bet anything that whatever Governor Amechi said against Goodluck Jonathan was the truth about President Jonathan's governance in Nigeria which has been stymied in corruption.
A beggar for power, one of the kingpins of corruption in Nigeria would of course report such a conversation to the one from whom he is expecting favors - the Vice-Presidency of Nigeria.
The joke is that Goodluck Jonathan, with his own mouth, had said during the turbulence caused by Turai Yar'Adua, that he was only seeking to complete the term of the presidency of which he was a part; and that he recognized that by the corrupt arrangement of their corrupt party, that it was the turn of the North to produce the President.
He indicated, then, that he would be willing to give that chance to whom it belonged by the corrupt arrangements made by their corrupt party. Today, there is "no honor among thieves". Goodluck Jonathan has forgotten his OWN WORDS; and Godswill Obot Akpabio has dug his political grave, and quite possibly his human grave!
OduduAbasi
DFW