Indian High Commission celebrates technical day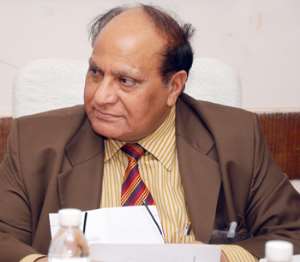 Rajinder Bhagat
Accra, March 3, GNA -The Indian High Commission, celebrated the Indian Technical and Economic Corporation day in Accra at the weekend, which highlighted a special training programme organised for African journalists in India.
The training which lasted from September 24- October 5 last year consisted of 25 participants from 15 African countries, including two Ghanaians.
It was organised by the Indian Government and sponsored by the Indian Institute of Mass Education.
The Indian High Commissioner, Rajinder Bhagat, said the cordial relations between India and Ghana had grown over the years.
Touching on some areas of collaboration between the two countries, he said India had ordered $ 2.088 million for President John Dramani Mahama's Pet Tomato Project.
He said million line of credit is in the advanced stage for a sugar plant project to be set up in Komenda.
Mr Bhagat said another $ 7.4 million line of credit for a fish harvesting and fish processing plant, is also being implemented by an Indian company, in consultation with the Ministry of Food and Agriculture and the Ministry of Fisheries and Aquaculture Development.
He said the India-Ghana joint ammonia-urea fertiliser project at estimated to cost $ 1.3 billion is also at an advanced discussion stage.
Mr Isaac Aidoo, Journalist with the Finder News Paper and a participant in the training, told the Ghana News Agency that the course greatly enriched his knowledge in news reporting.
"I had more insight into news reporting and some knowledge on Indian culture," he said.
GNA