Tunisia president testifies in Belaid murder probe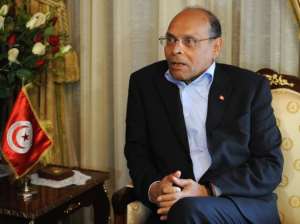 Tunisian President Moncef Marzouki pictured on February 20, 2013, at Carthage palace in Tunis. By Fethi Belaid (AFP/File)
TUNIS (AFP) - Tunisian President Moncef Marzouki on Thursday testified in the murder probe of Chokri Belaid, his office said in a statement, after the opposition leader's family said he had received death threats.
"President Moncef Marzouki received this morning the judge of the Tunis first instance tribunal who heard his testimony as witness in the assassination of Chokri Belaid," said the statement.
The family of Belaid, who was gunned down outside his Tunis home on February 6, say the president was aware that the leftist politician and vocal critic of Tunisia's ruling Islamists had received threats before his murder.