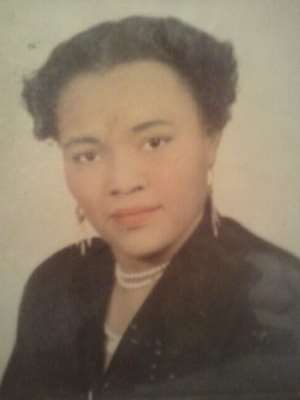 Before my grandmother was a grandmother she was an aunt. She had older brothers but she was the eldest sister in her family of ten or eleven children. If we're speaking of titular longevity it would be more correct to call her Aint Bessie. Later on, moving northward and when her sisters had children, there would be variations of Aunt, Auntie, and Ant. But the one which resonates most in my memory is hearing the children of my Aunt Herbie (who had one child named Lawrence) and my Aunt Teench (her real name was JonEthel and she had a crew of daughters – Gail, Carole, La Joyce and Sandra). They all called my grandmother Aint Bessie at home but I recall that they would codeswitch and use 'Aunt' in front of folks.
My grandparents had seven children with only one being born in the south. Percy Daniel Staples, Jr. lived and died in the breadth of a precious few months. When her child was born, tiny, sickly, and fretful, there were even some who dared to speculate that she had to get married. Sadly, this was not the case. My oldest uncle died while his parents watched him take his last breath. They were sitting together and he was sleeping peacefully on their bed in a room of a their home, built by hand with the help of the Staples and Irving men. She recalled, "yo daddy had his ahms around me. Chile we was so relieved that the po' thang had gotten him some rest. I put my hand on his leg. He gone." My grandmother knew when the last breath had left her first born son's body. I don't know if my grandfather knew it himself. He wouldn't speak on it. They were together in all things so I'm assuming that he knew it too.
My great grandfather Jim came to the house after my grandmother's women folks had gotten the baby ready for the grave. He took the baby and put it in a wicker basket. My grandmother got ready to go to. She had just turned 20 and had been independent, teaching, on her own at school for some time before she married. Great grandfather Jim touched her shoulder, "Naw. It's too much." And my grandmother stayed on the steps of that cabin and watched as he, my grandfather Percy, some of his brothers (there were sixteen all together) and a few mourners carried the child to the impotent. yard of Wondrous Home Baptist Church. The plot had already been dug. He would have company. My great great grandfather, William Watson Staples, who spent the first thirty-five years of his life as a house slave on a small farm in French Lick, Mississippi was already resting there.
Great grandpa Jim lowered his huge body to the ground after the preacher had preached, the verse had been read, and a pitiful song had been submitted to that impossibly dreary day in the early summer of 1938. His body flat against the ground and his arms reaching way down. All my people have always been taller than most but not so much that they don't look human. His arms were long enough softly land the baby's homemade casket into it's space. The men covered the hole and left.

My grandfather walked into the house and there was no sound for many days to come. The two of them had been friends since the Staples first came over from Drew in 1921. The Staples were the epitome of rowdy. Full of life. Bustling. Hard drinking. Hard working. Adhering to a code unknown to them verbally but fully realized by their family structure. They were a clan in the truest sense. Disputes were settled by the elders. Big Jim, Ole Mane Warren, and until his death, their patriarch WW. They went from being ruled by the owners of the Dockery plantation to owning their own land, land tenure, in the early days of 1921. When they came into the town of Mound Bayou, Mississippi all took note. An entire village of Black men ready to take wives, make children, and live a good life. It wasn't long before family after family were absorbed into the Staples. Two sisters from the Townsend family. Several girl cousins from the Herrons and the Keys. None of them knowing that the death of this tiny baby would change all of their lives. My grandmother no longer loved her life in the historic all-Black town. She knew that if her baby would have been able to be put into an incubator, he would have lived. She was an avid reader, a fact of which my grandfather was always proud, and knew about such things.
Because of the death of that child he left Mound Bayou to make a place for them in St. Louis. Great changes came in that town over the next twenty years. The Black folks built themselves a hospital (the Taborian Hospital) and the White folks figured out a way to get most of them off of their land. They sprayed the crops from the air and suddenly the yields grew lower while the sickness of the people of the town grew higher. More men became slaves in the prison industrial complex. And there were tales of women who couldn't get big after visiting the White folks hospitals and clinics. By then, the early 1960's, my grandparents had been in St. Louis for over 20 years.