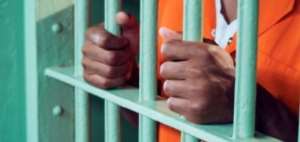 Kade, Aug 19, GNA - A security man who caused harm to his senior with a cutlass has been remanded in prison custody to re-appear on August 23 by the Kade District Magistrate court.
Reuben Abanyi pleaded guilty with explanation to causing harm to Yaw Sarfo.
Chief Inspector Francis Cobbina told the court presided over by Mr Abdul Majid Iliasu that the complainant was a senior security officer of Kent house Security Services detailed at the Kwae Estate of Ghana Oil Palm Development Company (GOPDC) with the accused working under him.
He said on August 5 at about 8pm, the security men who had collected their pay went on a drinking spree and soon begun teasing each other.
He said the accused told the complainant (the senior security officer) that he always sounded foolish when he spoke and also mocked him calling him "don't blame me", a name the complainant did not like.
Chief Inspector Cobbina said the complainant also insulted the accused calling him a foolish man which offended the accused and hence slapped the complainant who returned the slap and pushed the accused down but witnesses soon separated the two fighting men.
He said the accused was however not satisfied with what had happened and went home, brought a cutlass looking for the complainant and when he saw him, he slashed the left side of his neck and with blood oozing, he vanished into the darkness.
Chief Inspector Cobbina said the complainant was rushed to the Kwae Estate health centre at GOPDC, Kwae where he was admitted.
He said Policemen stationed at GOPDC together with Kent house security services personnel went to the house of the accused and arrested him and was sent to the Police station.
In a caution statement, the accused admitted the offence.
GNA