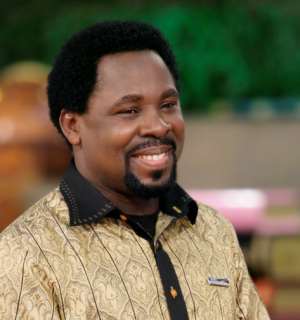 Nigerian Prophet T.B. Joshua of The Synagogue, Church Of All Nations has called on Ghanaians to unite their words and deeds after arriving in Ghana yesterday for the funeral of the late President John Evans Atta Mills.
Speaking to Ghanaian news station, TV3, outside the residence of the late President after praying for former First Lady, Naadu Mills, he advised Ghanaians, "We should let our words and our deeds be the same. I mean, what we are saying and what we are doing should be the same. We should not say this and do another thing. You have heard the testimonies of the people. If we had confessed these before now, that would have strengthened the courage of our father before his departure."
Contrary to media reports in Ghana which stemmed from Citi FM, an Accra-based radio station, Joshua did not term identifying the cause of Mill's death as 'unnecessary' but rather stressed the late Presidents destination was of greater importance than the manner of his departure. "When it is time for human departure, what caused it does not matter. What matters is for us to know the time and where we are going. If we know where our father is now, we would like to be there," he said.
When asked whether his role in Mill's life was that of a spiritual father, Joshua refuted the statement. "God is our spiritual Father," he explained.
T.B. Joshua, who was recently lauded as one of Africa's most 50 influential people by the prestigious Paris-based magazine, 'The Africa Report', recently said that his relationship with Mills started when he was Ghana's Vice President. After Mill's surprising ascension to presidency, his first port of call after his inauguration was to Joshua's church in Lagos for a thanksgiving service where he publicly testified to the accuracy of Joshua's prophetic insight in his three-round election victory.
Speaking publicly about their relationship for the first time during his church service on Sunday 29th July which was broadcast live on Emmanuel TV, Joshua said Mills was a martyr whose death would serve as a catalyst for political unity in Ghana and a revolution in governance. The service was attended by Mills' only son, Sam Kofi Mills, who thanked God for the life and legacy of his father.
Ihechukwu Njoku - freelance Nigerian journalist currently in Accra, Ghana
VIDEO ON YOUTUBE OF TB JOSHUA'S INTERVIEW IN GHANA WITH TV3 -
ATTA MILLS TESTIMONY IN TB JOSHUA'S CHURCH -

TB JOSHUA'S MESSAGE ON ATTA MILLS DEATH, TITLED 'THE HIGHWAY TO HEAVEN' -