RACISM AND VIOLENCE THREATENS EURO 2012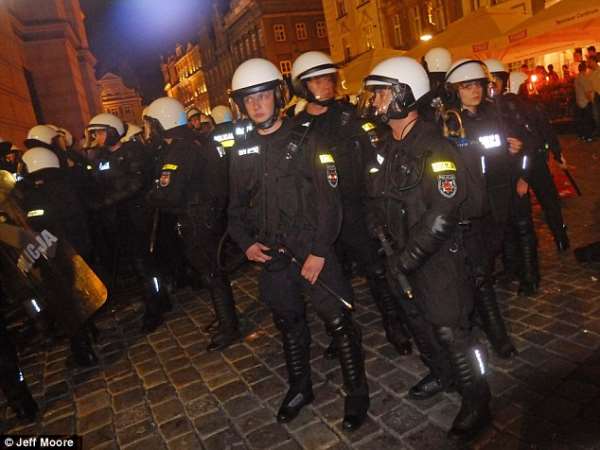 The European cup of nations started off on a bad note with violence and racism casting a shadow over the prestigious tournament.
The tournament, which aims at boosting economies and making the host nations famous and also bringing joy and unity to people from all walks of life, has taken a wrong turn due to unscrupulous behaviour of citizens of the host nations Poland and Ukraine.
Racist abuse by on-lookers against black Holland players last Wednesday in Krakow had not just marred the tournament but also revealed the ignorance, backwardness, and weakness of these nations and people behind this act of shame.
Theodor Gebre Selassie, the only black player on Czech Republic's side, had monkey chants directed at him by Russian fans who also attacked stewards of the tournament in Wroclaw.
Another black player from the Italian side, who recently helped Manchester City to win the Premier League title for the first time in history, Mario Balotelli, has warned that he will walk off the pitch if any racial abuse is hurled at him during the course of play.
In a press conference, Polish sports minister Joanna Mucha has confirmed that 314 people were treated by medical staff in 16 reported violent cases connected to the tournament.
Just before the Euro 2012 tournament, the BBC showed a damning documentary about racism and violence of these two nations (Poland and Ukraine) who are co-hosting the tournament.
This documentary revealed how fans of local teams in Poland train like soldiers to attack and kill their opponents. These two nations have unprecedented records of racism and violence in the game than any other countries in this modern world of football.
Racism and violence are killing the very essence of the game and all the football governing bodies around the world, with FIFA at the head, are doing all they can to eradicate this shameful and negative act.
I have my doubts and I know that you as a reader will be wondering why UEFA would award the hosting rites of such a prestigious tournament to countries like Poland and Ukraine.