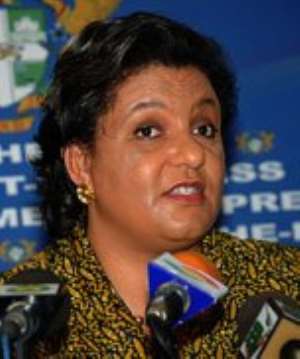 Stakeholders of the textile industry have called on the government to review and amend existing laws on the importation of foreign textiles into the country.
They said as much as the country had to adhere to the agreements of the World Trade Organisation, it was important to look at the effects some of these agreements were having on the local industries.
The president of Spinnet, Mrs Edwina Assan made the call during a training workshop funded by Business for Advocacy (BUSAC) for textile dealers in Accra.
Spinnet is an association of individual companies who deal in textiles, clothing, jewelry and interior decor.
She however blamed the influx of imported textiles which she said were priced much lower than the locally produced ones on the trade liberalisation policy by the government which has now rendered the textile and garment industry uncompetitive.
"The policy has seriously rendered the local textile manufacturing companies uncompetitive thereby eroding their markets and creating a huge reduction in their market share which has consequently led to the loss of huge sums of revenue and jobs for players in the industry and others along the value chain," she said.
Mrs Assan explained that to avert this, a fair playing ground and favourable investment climate should be made available in the country which would make the textile and garment industry competitive leading to the creation of more jobs to improve the livelihood of industry players.
A trainer of business advocacy, Mr Kofi B. Kukubor in his address said the retail law in Ghana had not been enforced for too long a time and had given rise to the influx of expatriate traders in the country .
To avert this, he said private sector participation in policy formulation and review of policies would enhance a favourable business environment in the country.
He also blamed the low patronage of local textiles and garments on the negative perception of Ghanaians of locally products produced in the country as being inferior , this he said was not helping the industry.
He added that until "we as a nation begin to concentrate on our local industries then the economy will remain as it is."