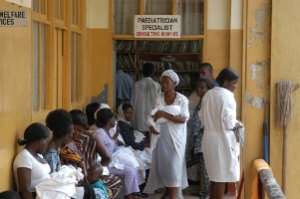 Ho, May 18, GNA - Dr Atsu Seake-Kwawu, the Ho Municipal Director of Health, has appealed to the Coalition of Non-Governmental Organizations (NGOs) in Health to assist the Ghana Health Service to meet the 2015 Millennium Development Goal (MDG) Five target of zero maternal deaths in the region.
Dr Seake-Kwawu was addressing a regional Health Forum organized by the Volta Region branch of the Coalition of NGOs in Health in Ho under the theme, "Sexual Reproductive Health (SRH), The Role of the Civil Society Organisations (CSOs).
He said there are gaps in Sexual Reproductive Health (SRH) delivery which the Coalition could help close.
Using the Ho Municipal area as a reference point, Dr Seaka-Kwawu said some SRH services such as infertility and cervical cancer screening were not programmed. There are also wide variations in SRH service availability depending on location.
He said total coverage figures in SRH services tended to "mask gross inequalities among the eleven sub-municipalities while service quality varies widely across the sub-municipalities."
Dr Seake-Kwawu said there are also some hidden gaps in SRH delivery and these include access to quality SRH information at family level and non-availability of waiting homes for pregnant women.
Others are absence of emergency transport systems at community level and at referral facilities, lack of financial support to pregnant women and inequitable access to services
He said the Coalition of NGOs in health could support the GHS in skills improvement, equipment, community and transport mobilization in support of pregnant women, provide and run waiting homes for pregnant women about to deliver as well as help provide programmed screening for infertility and cervical cancer.
Ms Commend Eyram Akpeloo, Volta Regional Chairman of the Coalition of NGOs in Health, said despite resource constraints the GHS was doing its best in addressing the ever expanding reproductive health needs of the country.
She said it was for this reason that NGOs in health had initiated some activities to complement the work of the GHS in the "inaccessible parts of the country."
Some of the issues raised by participants included the need to use radio to run programmes on Sexual Reproductive Health regularly.
Concerns were also expressed at the reluctance of some pregnant women to access ante-natal services or deliver at health facilities because of the attitude of some health workers.
It was suggested that husbands of pregnant women should be encouraged to accompany their wives to ante-natal sessions so that they would appreciate the challenges their wives faced when pregnant.
GNA