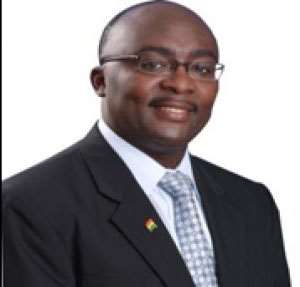 On the same day Dr. Mahamadu Bawumia was being savaged by the congress propaganda ecominist in Accra, a renowned international economist was commending that brilliant son of the motherland, Dr Bawumia. The commendation was at a gathering of businesspeople, economists and communication scholars at a university business school in Nairobi.
In acknowledging the young man's astute understanding of economics, though, the professor had also painted a picture of a politico-skeptic Dr Bawumia. In the presence of the professor, the sharp economist and banker had lamented over how politicians would unduly take advantage of good central bank policy implementation.
He had noted how politicians easily will, in response to favourable economic conditions established through prudent central bank interventions, take advantage of those investor-friendly economic conditions to go on a borrowing spree; an action that messes up an economy.
I dare say that is exactly what has happened to the motherland's economy. And why not? In congress' ecominics, just borrow, making whatever you can in the process of contracting the loan and leave the motherland's economic to rot and decay.
And so they went borrowing, STX and all, and perhaps hoping one day they will be able to share a booty in judgment debt woyomically, as they just did.
If I were a young man, I would raise my hand and ask congress why they want to stuff their cheeks, fill their bellies, and build their mansions through loan acquisition processes to leave future generations buried under the suffering of debt.
Congress has taken full advantage of the oil discovered by John Agyekum Kufuor to borrow to the hilt, driving a buoyant economy back into a near-HIPC condition.
It is nothing strange for a professor, associate or full, to tongue slip. I, at least on one occasion, messed up my tenses while giving a talk at the great observatory of Vandal City. Sometimes though, what appears to be a slip could be a substantive revelation of something lurking in the subconscious compartment of the brain of the one whose tongue slipped, making it seem like it slipped when it didn't in actual fact.
Advertisement
Saying ecomini instead of economy could thus possibly have signified the slipper's careless attitude towards economic issues. Why bother about pronunciation when the concept is not my beef, will be the attitude.
Why worry about correct pronunciation of economics when I couldn't care less about it. I couldn't so much so that I will appoint one whose knowledge of the subject is little but can do propaganda so well that he will even insult one so endowed with the knowledge of the motherland's economy. The know-little ecominist propagandist will insult the knowledgeable one who is undoubtedly an illustrious son of the motherland.
That will be the person to advice on why congress should raid and woyomise the motherland's current account and go on to contract a GH¢3 billion Chinese loan. I hear each and every one of us in the motherland now owes GH¢1000!
This bunch of congress shipping crew is one of a sort. I agonise for Nana Akomea having to pit his rich legislative, ministerial and real life experience against someone like Okudzeto Ablakwa. Really!?
As I said before, it appears a whole host of deputy ministers were appointed because they were good at insulting Ghanaians, hardworking and accomplished in their fields of endeavour. When they started insulting and kept insulting, there was no peace council. And there was no Christian Council.
Indeed, when an actor in the chief captain's office prevented full-blooded Ghanaians from registering to vote, and went on to swear to defend that unlawful act with his blood there was no council for Christians or peacemakers. It took a maverick's unsavourly remarks for all the councils in the world to suddenly wake up about a Rwanda in the making.
Those who know do know. I am sure if one were to ask CEPA, or IEA or IMANI or ISODEC, or IDEC or any serious economic researcher in this motherland, they will tell you the Bawumia is credible and his figures make a lot of sense.
They will tell you it is strange that the Ghana cedi continues to slide in value with the Chinese USD3 billion. They will tell you often, low inflation is at the cost of jobs. They will also tell you that you need not borrow huge amounts at a time when you are capable of raising reasonable amounts of oil and cocoa and gold money to undertake fairly large projects.
So, I cannot see Asaga's apples and oranges. Maybe he was talking about citrus sinensis or oranges and citrus aurantefolia or tangerines because they are close. Or it is all about calling economy ecomini. They know what exactly it is. They know how recklessly they are handling the economy.
By Kwasi Ansu-Kyeremeh