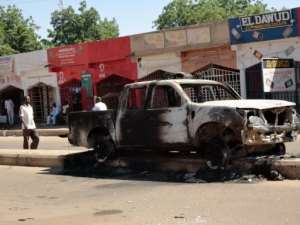 KANO, Nigeria (AFP) - Gunmen suspected of belonging to the Boko Haram Islamist sect fatally shot a police inspector outside his home in northern Nigerian Yobe state Friday, a police official said.
Two gunmen shot Ibrahim Mari as he tried to enter his house in the state capital Damaturu after returning from night duty, state police commissioner Moses Namiri said.
"The attackers fled after the attack but we are making efforts to arrest them," Namiri said.
In another attack in the same region late Thursday, a group of six suspected Islamists killed a 35-year-old electrician they suspected of giving information on the sect to security agents.
Nura Mohammed was shot dead in his house by the assailants, Namiri said.
Residents said the attackers shot him in the head after a brawl.
"I overheard the gunmen from my house shouting at him, asking him why he gave information to security personnel on their activities," a resident said.
The group's insurgency has killed hundreds since mid-2009, with the United Nations, churches and local authorities being among its targets.