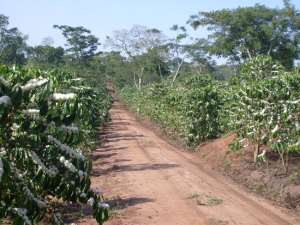 A German coffee producing company has come under attack for unlawfully taking advantage to grab a land in Uganda that could make way for coffee plantation.
The Head of a Hamburg-based Neumann Kaffee Gruppe (NKG) who has 10 percent of the global coffee market share, and supplies Dallmayr coffee among other firms, Michael Neumann personally laid the foundation stone for the Kaweri plantation alongside Ugandan President Yoweri Museveni back in 2001. But it was reported that just a few days before the ceremony, government troops drove around 400 Ugandan farmers off the 2,500 hectare piece of land, beating workers and destroying their huts and crops.
The farmers and their families, around 2,000 people in all, have been fighting for compensation ever since, and have won the support of human rights organization Food First Information and Action Network (FIAN). Together the organizations have brought several lawsuits against both the Ugandan government and NKG's subsidiary company Kaweri, but it has been a protracted process.
Judges have been changed several times, and NKG itself has missed several negotiation deadlines. The farmers did not directly own the land, but Ugandan common law gives them legal rights to its use, because they had been working on it for so long before they were evicted.
The Hamburger coffee giant, Neumann said the land was "the legal property of the Ugandan Investment Authority (UAI), and has been leased to Kaweri for 99 years." The farmers also argue that the Kaweri plantation has annexed some 500 hectares of neighbouring land, owned by 80-year-old farmer Anna Nandyose Katende therefore the land was illegally taken by the German (owned) company.
Hamburg-based Neumann Kaffee Gruppe (NKG) argues that the Kaweri plantation has brought new jobs, educational opportunities, electricity and fresh water to the area. But the Food First Information and Action Network (FIAN) spokeswoman Gertrud Falk says, while the new electricity and water supply had raised the standard of living for some of the local population, many farmers simply no longer have any income to afford the new facilities. As a consequence the number of children going to school has reportedly dropped. This makes the expulsion unjustifiable and is a blatant violation of human rights and Ugandan law.
FRANCIS TAWIAH (Duisburg - Germany)