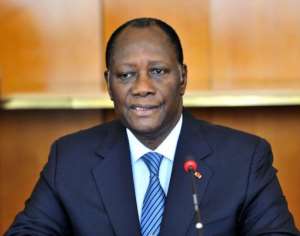 ABIDJAN (AFP) - Ivory Coast's President Alassane Ouattara took the crucial post of defence minister in a new government which was unveiled on Tuesday.
Prime Minister Jeannot Ahoussou-Kouadio will also serve as justice minister in the new cabinet, the presidency said in a statement.
The announcement that Ouattara would fill the defence portfolio came shortly after it was confirmed that Ahoussou-Kouadio, a prominent member of a smaller party that backed Ouattara's 2010 election bid, would serve as premier.
Ahoussou-Kouadio, 60, replaces Guillaume Soro, who was on Monday elected the speaker of the Ivory Coast parliament.
Soro and his government stepped down last week as official results were finally issued for the December 2011 legislative elections, which Ouattara's Rally of Republicans (RDR) swept.
The RDR won 138 of the parliament's 253 seats on 54.54 percent of the vote, according to results published by the Independent Electoral Commission.
Bedie's PDCI won 86 seats on 34 percent of the vote.
Ouattara had defeated Laurent Gbagbo in November 2010 presidential elections, but Gbagbo's refusal to give up power triggered a conflict that left about 3,000 people dead.
Ouattara finally took power in the west African nation with the support of UN and French peacekeeping forces and Soro's former rebel fighters.
Gbagbo is now in custody at the International Criminal Court in The Hague, where he faces four counts of crimes against humanity.