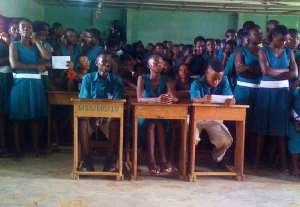 Senior High School students in the cocoa growing district of Mpohor Wassa East in the Western Region have downplayed optimistic prospects that the emerging oil industry would accelerate the socio economic development of Ghana. The students of Mpohor SHS are of the opinion that the inability of other age old natural resources like gold to transform the economic status of Ghana is ample evidence that the oil industry would also be exploited by foreigners to the disadvantage of Ghanaians. The students expressed the views during a debate competition organized for them by Cadbury Cocoa Ambassadors working in the area, and Non Governmental Organization World Vision Ghana, on the theme: "Cocoa Still Holds the Key to the development of Ghana, and not the newly discovered oil." The students insisted that cocoa being a heritage crop still remains the single most important commodity that has the potential to transform the life of Ghanaians and not the emerging oil industry.
Arguing for the motion, SHS Four Student, Master Isaac Jerry Arthur intimated that the contribution of the cocoa industry to the development of the country in terms of giving employment to millions of Ghanaians, providing government with foreign exchange, and supporting the educational sector through scholarships, places cocoa at such a high pedestal that oil would never be able to match. He said "cocoa is helping close the gap between poverty and wealth without the need for any higher education," claiming that the oil sector on the other hand presents a situation where ordinary Ghanaians, majority of whom lack the requisite oil sector technological know-how, would not be able to cash-in on the industry.
Despite his team losing the debate competition, Master Patrick Zoonu who spoke in opposition to the motion asserted that cases of cocoa beans being smuggled out of the country, and farmers cutting down their cocoa trees to plant rubber trees is an indication that the relevance of the cocoa sector in the development of the country has hit a downturn. Commenting on the debate topic, most of the students supported the motion, claiming that they would not have been able to reach that far in their academics, but for the income their parents generated from the cocoa sector.
District COCOBOD Officer, Jeffery Sam who witnessed the debate competition commended the students for the deep research conducted in their preparations for the debate competition, which culminated into the highly qualitative nature of arguments made on the debate floor. World Vision Project Facilitator, Emmanuel Aboagye encouraged the students not to relent on their efforts but rather keep up with their good works. Cadbury Cocoa Ambassadors Joseph Opoku Gakpo and Audrey Kareen Gambrah expressed confidence that the views of the young people if inculcated into the drafting of national policies would be helpful for the nation's development. The debaters took home various prizes including learning materials and story books, as well as a cash prize of 100 cedis donated by the District COCOBOD Officer.