AKUFO-ADDO'S POOR KYEBI HOSPITAL RECORD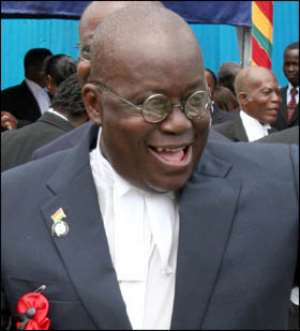 At the recently held NPP rally at Mantse Agbona in James Town, Accra, NPP flag-bearer, Nana Akufo-Addo, virtually called for a comparison of his record with that of President Mills when he said "…he (Mills) cannot campaign on the programme he has for the future of this country; (and) he cannot campaign against my record."
Many Ghanaians who know the NPP flag-bearer from head to toe were left scratching their heads about what public record the NPP flagbearer may be touting as his achievement against President Mills.
Since charity begins at home, Daily Post decided to put before Ghanaians the performance of Nana Akufo-Addo in his own hometown, Kyebi in the Easter Region of Ghana.
Kyebi is part of the Abuakwa Constituency. For twelve long years, during when he was also Foreign Minister as well as Attorney-General & Minister for Justice, Akufo-Addo was Member of Parliament for this constituency.
The constituency boasts of the Kyebi District Hospital, located in Akufo-Addo's hometown, Kyebi. It was commissioned by the then Vice-President, John Atta-Mills in 2000.
Soon after the commission of the hospital, the NDC lost power. The NPP government came into office with Akufo-Addo as the Attorney General.
One will have expected that with this big hospital that the NDC had put up to serve the people of Kyebi and its environs in his constituency, Akufo-Addo will make the hospital one of his priorities. But alas, that has not happened. Today, the hospital is in a total state of disrepair.
(I) The hospital has only one doctor, Dr. Okyere. This is because there are no quarters for doctors who come to work there to leave in.
(ii) The only generator in the hospital does not work
(iii) The toilet and bathrooms of the hospital are an eye sore.
(iv) Almost every facility in the hospital is in a state of disrepair
(v) Because there is only one doctor, patients at the hospital have to wait for hours to see him. Sometimes, overwhelmed, the doctor does not come at all to the hospital. The result is death.
(vi) Pregnant women who go to the hospital in the morning get to see the doctor in the evening.
(vii) The people of Kyebi who Akufo-Addo hopes will vote him into power come this December no longer go to the Kyebi Hospital. They visit other hospitals for proper health care
If Akufo-Addo, as MP for 12 years for the people of Kyebi and its environs and who went on to become Foreign Minister and Attorney-General cannot help the people in his own constituency, how can he help the entire nation? Is this the record he believes can beat President Mills' record?