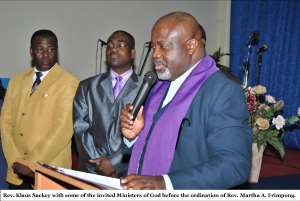 AGLOW International, a world-wide non-denominational Ministry which devotes most of its time for prayers and evangelism, celebrated its 10th Chapter in Italy.
The event of thanksgiving, marked in a charged and spirited prayer session, was hosted at New Convenant Gospel Church in Verona, and it was also an occasion to ordain, as evangelist, the Founder and National Overseer of AGLOW International in Italy, Rev. (Mrs.) Martha Ahlijah Frimpong, who started the Ministry in 2005 with some few women in Verona.
Giving some brief history of AGLOW International, Akubaa Adjaloo, the local President of AGLOW in Modena, said it was formally called 'Women Aglow' and was founded in 1967 with only four women who had the desire to meet together as Christian women without denominational borders. Their first meeting, she indicated, was held in Seattle, Washington (US), close to where AGLOW is headquartered today. The meeting attracted 100 women and this initial number of women began to invite neighbours and friends to meetings. As the news spread, new groups began to spring up around the Washington area and within months groups were formed in other US States.
She pointed out that 5 years later, more than 60 local groups had been formed and a year on, AGLOW moved to the global stage as fellowships were formed in other countries; among them Canada and New Zealand. The Netherlands followed in 1974 and in just 6 years it had become an international network of caring women. "AGLOW spans across the globe and it continues to reach women of every colour, creed and culture. Today, it is no more an exclusive club of women. Men have become part of it, hence the name AGLOW International," she told the congregation.
Italy, according to her report, had its fair share of the cake in 2005 with Rev (Mrs.) Martha Frimpong. It started in Verona and it has grown to 10 branches. These branches are in Verona, Brescia, Vicenza, Bergamo, Como, Pordenone, Modena, Mantova, Torino and Milan.
AGLOW International, she continued, can be found in 172 nations and it is working towards reaching the world with the gospel before Jesus Christ comes. "It has two legs that it stands on and these are: PRAYER & EVANGELISM. It has over 4,600 groups worldwide with about 68% of these groups outside the US. It is not a church and it will never be. It is a network of caring women, it is a network of praying women", Akubaa said.
Preaching a short sermon at the event, Mrs. Nwakego Ibrahim-Pam (AGLOW President in the Hague) spoke about 'Thanksgiving' and said in all things Christians should give thanks to God, have a personal relation with Him and be Christ-like. She congratulated members of the Ministry in Italy adding she is glad its organisation is growing.
Gospel artiste, Becky Cournooh, had earlier before the sermon led the congregation in a joyful praise and worship session.
Before her ordination as an evangelist there were testimonies. The National Secretary of AGLOW in Italy, Mrs. Evelyn Kumah, described her as a wonderful astute woman who will not go back when trying to win souls for the Kingdom of God. Pastor George Erimwionghae (Pastor of New Convenant Gospel Church in Verona) said she answered the call of God and it was a challenge to him to enrol in the Bible School when she was a Bible student. "Your acceptance to study at the Bible School was an encouragement to me and because of that we have established a bond of friendship which is helping our church and we will reward you for that. I testify to the grace of God on your life," he noted. Pastor Peter Adu also testified on the founding mother of AGLOW International in Italy saying the importance is not how Pastors are called with titles but what they do as Ministers. "My prayer is for God to exhort you in the field of evangelism".
The sacred and moving ceremony was performed by Rev. Klaus Sackey of Action Chapel International in Brescia, who washed her feet and poured anointing oil on her as Ministers of God and the congregation joined in solemn prayers.
Telling her story later about AGLOW in Italy, Rev. Martha Frimpong said she has a passion to help women in her church. "I was always ready to give them the help I could, encourage, advice and support them in prayers. Along my movement with women I realised that most of them feel good as they share and fellowship together. We were winning souls for God. There were women who were not happy in the church and were staying at home. We've been able to fellowship with them and brought them back in the church," she said. According to the founder, the testimonies of these women give prove God is doing something new in their lives. She also mentioned that AGLOW International shares the Word of God with Muslim women, Chinese women and people who have not heard about Christ. "I do individual evangelism, evangelising, anyone I meet personally in a train, I pick in my car or come in contact with I take that opportunity and talk to the person about Christ. I have done that in hospitals. I send messages on facebook and in telephone calls".
She also informed the congregation that AGLOW in Italy has a magazine and most of its members have life changing testimonies to share with others.
"I do travel with some of the women to Conferences outside Italy, so as to give them a different mind-set, meeting different women, making friends, have intimate relationship with God outside the home, refreshing the mind and releasing stress with different atmosphere. It's said when you train a man you train a single person but when you train a woman you train a nation," she added.
Present at the service were Pastors from different churches and they include, Pastor Ebbie Bright (Shallom Temple), Pastor Francis Quarm (Life Line Church) Pastor Stephen Yeboah (Christ Cornerstone International Church – C.I.C.C.), Pastor Samuel Buaku Nash (End Time Ministry), Elder Boadi (Pilgrim Church), Evangelist Betty Nyarko and Rev. George Osasu. (Rev. Martha Frimpong – Tel: 039.320.7073.304 e-mail: [email protected] – Reggie Tagoe in Verona, Italy ([email protected])