Ghana Opens Door To Fordia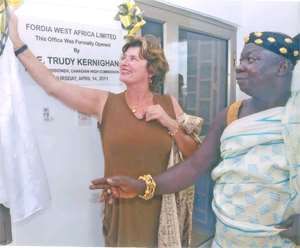 Canadian manufacturer, Fordia is expanding its operations on the African continent.
It inaugurated its first office in Ghana to handle its West African operations, which will cover nine countries, namely Mali, Nigeria, Burkina Faso, Cote d'Ivoire, Liberia, Sierra Leone, Senegal, Guinea and Ghana.
The company opened its offices in the sub-region at Obuasi, Ghana on April 14, 2011 at an event, which was attended by Her Excellency Trudy Kernighan, the Canadian High Commissioner to Ghana.
The company has appointed its first Fordia West Africa Regional Manager, Yaw Kwegyir-Aggrey, a Ghanaian with a rich professional background to spearhead the consolidation, as well as accelerate the growth of its businesses in the sub-region.
Speaking at the function, Mr. Kwegyir-Aggrey, the Regional Manager assured all existing and prospective customers of Fordia of prompt and efficient services in terms of placement and delivery of orders through the most appropriate, customized and timely technical support and advice.
In his message, Andre Derguy, Vice President of Sales and Marketing at Fordia Global said, 'Yaw has an excellent understanding of the African market having worked for many years in the mineral exploration sector.
These are important assets for the development as well as growth of our African subsidiary and we are confident that he is the man for the job'
He added that 'he will have the complementary teams on-site in each country to support and ensure smooth operations of the respective country business.'
Alexander Ackon, the Municipal Chief Executive (MCE) for Obuasi Assembly, who chaired the occasion, intimated that he was personally excited that Fordia chose to site its regional offices in Obuasi to service its West African operations, adding that Fordia has made the right choice.
Trudy Kernighan, the Canadian High Commissioner to Ghana reiterated that Fordia is one of the renowned companies in Canada that offers drilling solutions in the mineral exploration and geotechnical industries and commended Fordia for making Ghana the hub for its operations in the West African sub-region.
She pledged the High Commission's support to Fordia West Africa.