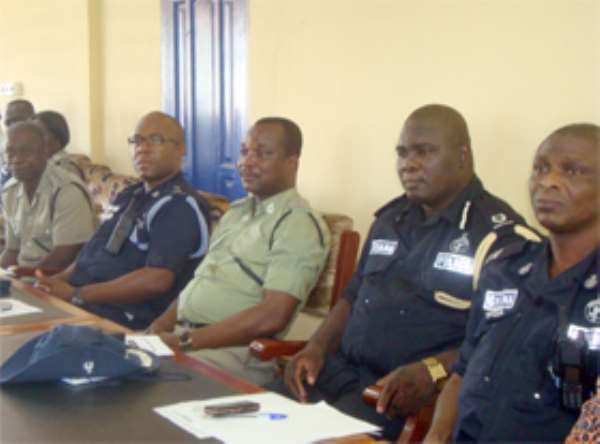 Criminals in and around the Volta Region who are thinking of committing crimes would have to give their idea a second thought as the Volta Regional Police command is taking strategic steps to clamp down on them.
The Regional Police Command, led by DCOP David Nennyi Ampah Bennin, on Thursday had a closed-door meeting with senior police officers from the various parts of the region to initiate more vigorous steps to fight criminals.
Apart from criminals who would have a tough time, road traffic offenders would also be dealt with severely.
In an address prior to the closed-door meeting, DCOP Ampah Bennin said though a few cases of robbery have been recorded, the region has generally been peaceful, recording the lowest accidents as compared to other regions.
He commended the Peki Command for working hard to fight robbers, adding,  "they massed up along the routes and removed abandoned logs which were suspected to be used by the highway robbers in blocking the roads," and encouraged all others to "finish hard" as the year is coming to an end.
He said owing to the increasing spate of road accidents in the country, there was the urgent need to strategize in order to arrest the situation. According DCOP Ampah Bennin, emphasis would also be on road traffic enforcement, adding that all officers must therefore be abreast of the road traffic Act to ensure strict supervision.
"This is very much necessary because road accidents are causing much loss to the state than even armed robbery.
This is because, in one road accident, as many as about 20 persons can lose their lives where as in armed robbery, an average of one may lose his life," he observed.
He said most road accidents occur due to human, mechanical or other factors, saying that available statistics show that over 90 percent of road accidents in the country can be attributed to mistakes drivers make, noting that most commercial drivers do not go for proper driving lessons.
"Officers should not say because the driver has a license and the vehicle has roadworthiness certificate, that is it, he should go, despite the fact that the driver is driving recklessly and dangerously," he warned, adding that henceforth, all senior police officers would go to the roads with MTTU personnel to ensure that the right thing is done.
The Volta police boss noted that focus on road accidents does not mean that fighting armed robbery would be relegated to the back ground. "We are equally going to strengthen both town and highway patrols," he assured.
DCOP Ampah Bennin however explained that the police are facing logistical problems in the region. He mentioned for instance that with the exception of Krachi, all divisional commands have no vehicles.
He said districts like Peki, Anyirawasi, Worawora, Aveyime, Adidome, Agbozume and units such as the communication division and the court units are also without vehicles.  
He however said he has informed the police command about these problems and has been assured that the situation would be taken care of.
He said the police command was also made aware of accommodation problems and the issue of transfer of personnel without replacement and he was assured that something would be done about them.
From Wise Donkor, Ho