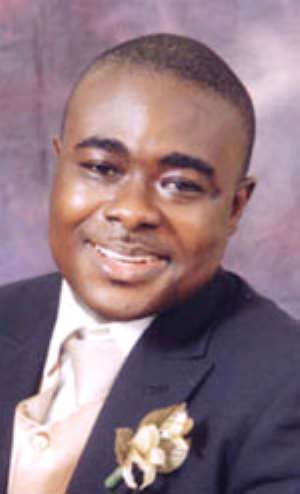 Whoever defined the goals of appreciative inquiry as a leadership/development tool must have had Prof. Don de Savigny's recent lecture to the University of Ghana's Public Health School in mind. How else does one otherwise characterize the phenomenal success story that is seeing Tanzania well on its way to achieving MDG 4 - reducing under five mortality? And he perhaps qualified to tell it, having worked with Tanzania's Health & Social Welfare Ministry for several years.
At its simplest, the goals of appreciative inquiry involve celebrating our successes and knowing the details of what is working. In the words of the health researcher however, "Investing in health systems for scaling up essential interventions can result in rapid child survival gains in countries like Tanzania." While at it, Prof de Savigny is quick to discard any red herring-considerations that might compel health actors to unduly focus on non health system contextual factors which in their analysis did not account for the recent significant gains observed from 1999-2004. Interestingly, these factors include poverty, climate, fertility, food security and epidemics.
Celebrating success
Before commencing a multiple district health system level intervention in 1996, child mortality rates in Tanzania as in many other African countries were heart-breaking. Five year averages put the figures at 141.2 deaths/ 1000 live births (1992), 136.5 (1996) and 146.6 (1999). In Morogoro and Rufiji Districts, under five mortality hovered around 164 deaths/ 1000 by 1998. Within six years of multiple interventions, Morogoro had recorded a 56% decline in under five mortality while by 2008 Rufiji recorded a 55% decline. As Tanzania rolled out more health interventions between 1999-2004 there were similar nationwide declines such that approximately 280 000 lives were saved in that period. Meanwhile the East African State has set itself the measurable aim of reducing under five mortality to 48 deaths/ 1000 by 2015.
What is working?
A number of things are working: better access to high quality essential services for children such as IMCI (Integrated Management of Childhood Illnesses), treated bed-nets, Vitamin A Supplementation, effective anti-malarial treatment, breast feeding promotion and also increased public spending and evidence-informed policies in the Tanzanian health system. Given that many African countries are seeing stagnation in maternal and newborn survival, Prof de Savigny's call "for greater innovation for these problems" is worth heeding.
Hopefully, such innovation should simultaneously bring on board the concerns on "technical and allocative inefficiencies, high morbidity and mortality, too many health priorities, underutilization of health information and planning not sufficiently based on evidence." In doing this, it should be possible to build synergistic health systems that recognize the importance of intervening simultaneously in all building blocks of governance, information, financing, service delivery, human resources, medicines and technologies and the people. Among the many interventions in Tanzania, three useful tools are worth mentioning, namely surveillance, district health service profiles and district health accounts.
Sentinel surveillance
Tanzania used Demographic Sentinel Surveillance (DSS) to gather data from household and community level and for monitoring health events. Using DSS, they identified the various causes of all mortality, identified most at-risk age groups plus fertility and migration rates. Furthermore, to aid deeper contextual understanding, the DSS also annually assessed health status and disease burdens as a reflection of the impact of various interventions.
More importantly and more specifically, they matched the mortalities observed to the place of death and determined that about 70% of deaths were occurring at home while about 22% occurred in health facilities.
Other data sourced included disease burdens and impact of interventions, access, use and impact of health services, health seeking behaviours for severe and fatal conditions, while continuously monitoring health reforms.
District Health Service Profiles
This prioritized the community disease burden that could be addressed through interventions. For example, they demonstrated using data that they had cost effective interventions available for 93% of the disease burden observed.
Further to this Tanzania focussed on which specific intervention- addressable shares existed thereby isolating- IMCI, Malaria, HIV/AIDS, Neonatal period, Immunization, tuberculosis treatment and essential drugs which collectively account for a significant proportion of total mortality burden observed.
IMCI- addressable causes like acute febrile illness, pneumonia, anaemia, malnutrition, diarrhoea and measles were for example noted to account for 30.2% of total burden. Another example was perinatal addressable conditions which accounted for 18.1% of disease burden under which specific attributable causes were still birth (44%), birth injury and/or asphyxia (28%) and prematurity and/or low birth weight (18%). Districts subsequently planned their healthcare services taking note of the seasonality of child deaths e.g. most of the children died between February and May. They also used the information on health seeking prior to death and place of death to strengthen outreach services.
District Health Accounts
This was used as a performance budgeting and expenditure mapping tool. Annual district health accounts were simplified to place emphasis on priorities, partners, and sources of funding, budget mapping and expenditure analyses.
Using this tool, it was demonstrated that IMCI- addressable causes of disease burden which accounted for 30.2% of the burden in Tanzania had only about 8% of the budget of the Dodoma District in 2002. Similar gaps were recorded in three other districts.
Subsequently, district budgets were aligned to the intervention addressable disease burden/priorities to ensure that the Malaria and IMCI etc got comparatively better funding as resources for health were increased.
The message is clear: support the system- increase public spending on health, decentralize control and boost local ownership, increase technical and allocative efficiency and hopefully better utilization of health services will result. With these done, the precious lives of African children should mean more than a morbid statistic as Tanzania so clearly shows.