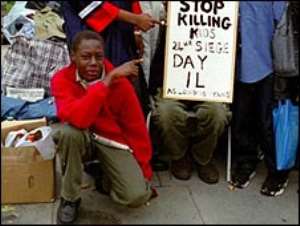 Umar Farouk Abdulmutallab has been charged over the incident
Airport authorities in Ghana are angry at attempts by their Nigerian counterparts to pass the buck on security lapses in the case of a Nigerian accused of trying to blow up an US-bound airliner.
The 23-year old Umar Farouk AbdulMuttalab had boarded a KLM flight from Lagos to Amsterdam from where he was transferred to a Northwest flight 253 to Detroit, US, which he attempted to blow up on Christmas Day.
The device failed and he was subdued by some passengers on board. Abdulmutallab is now facing charges for trying to blow up the plane.
As the search for security lapses continue, Nigerian authorities say Mr Abdulmutallab had boarded a Virgin Nigeria plane from Accra to Nigeria, arriving at Lagos' Murtala Muhammed airport on 24 December.
According to them the suspect spent a longer period in Ghana where the security checks should have been conducted to detect the explosives being carried by the young man.
However, Deputy Managing Director of Ghana Airport Company, Yaw Kwakwa, told Joy News the Nigerians' attempts to shift the blame on Ghana was misplaced.
He said the authorities have measures in place to check such attempts, adding that, whenever they have any hint that people would be using Ghana to embark on such a mission "we will increase our chances of catching the person here".
On the issue of whether the suspect started his journey from Accra, he said: "Nobody is saying that the person was living in Ghana, therefore, he started his entire journey from here.
"The person might have come from somewhere and pass through Ghana. We also know that the flight he boarded from Ghana was not the same flight he went to Europe on."
Meanwhile, a security expert, Emmanuel Sowatey, has warned that the blame game could undermine the confidence needed to share vital information to avert similar attempts in the future.
Story by Isaac Essel/Myjoyonline