Tension in Brong Ahafo as key chiefs clash over land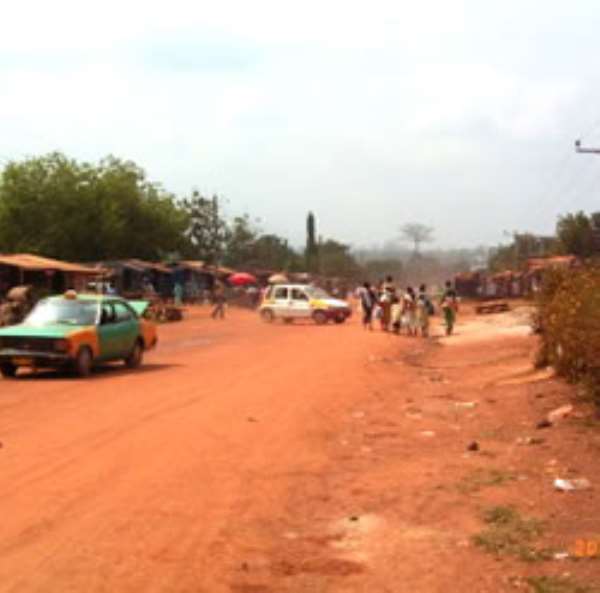 A street at Dormaa

The Omanhene of the Dormaa traditional area has denied media reports suggesting he sold lands belonging to the Sunyani traditional council.
Osaagyefo Osaadieyee Agyemang Badu, who is also the president of the Dormaa traditional council, was reacting to newspaper publications quoting the Sunyanihene who allegedly accused him of engaging in illegal land sales.
At a press conference in Dormaa Ahenkro, the Dormahene walked journalists through what he said was a distortion of the story and the proper tale to be told, Eric Owusu Sae of Kumasi-based Sky FM reported.
The Dormaahene took issue with a response the Sunyanihene had reportedly given during a press conference on land issues in the area. The issue is said to be sitting on the desk of the Brong Ahafo regional house of chiefs.
The press conference by the Dormaahene was, according to him, to "water down the impact of the Sunyanihene's press conference."
Osaagyefo Oseadieyee Agyemang Badu stated that the Dormaa stool did not share any common boundary with the Sunyani stool but rather with the Domase stool from time immemorial.
He cited the municipal hospital in Sunyani and the regional hospital as landmarks within his jurisdiction.
The chief disclosed that the Dormaa stool had been in effective and absolute control of all its traditional environs including Abesim and Dormaa as far back as the 17th century and described the Sunyanihene's claim to ownership of these parcels of land as uncustomary.
He added that the Dormaa traditional council was going to take steps to have the Sunyanihene brought to order through the Brong Ahafo Regional House of Chiefs.