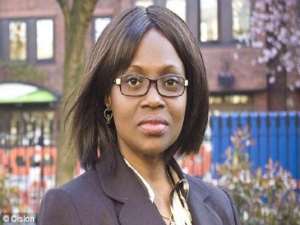 LILLIAN LADELE
London (THEWILL) - Appeal court judges in a UK court on Wednesday, December 16, 2009, ruled that Lillian Ladle, a Nigerian-born British registrar who refused to conduct civil union ceremonies between gays because it was contrary to her Christian faith broke the law.
The UK's Labour equality law gives equality rights to homosexuals and so does the Civil Partnership Act, which allows civil gay partnerships, giving them the same legal rights as married couples.
Lord Neuberger, who presided over the case with two other judges said that Labour's 2007 Sexual orientation Regulation makes it illegal to refuse service to a person on the bases of their sexual orientation and this provision trumps the rights of religious believers such as Miss Ladle. Lord Neuberger said the rules meant Lillian Ladle had to put aside her religious principles and perform the marriage ceremony, or give up her job.
Miss Ladle, 48, who finally resigned from the Islington council, North London in September, was said to have first tried to change her roster in order to avoid conducting these civil partnership ceremonies but her gay colleagues complained that they were being victimised. At this point the Islington leaders took disciplinary actions against her.
Also at a meeting of the council's lesbian gay bisexual transgender Forum, Islington, officials allowed confidential information about Miss Ladle to be discussed as her gay colleagues claimed that her stand on the issue was 'an act of homophobia'.
Lord Neuberger said Miss Ladle was faced with 'choosing a post she appreciates or officiating at events which she considered to be contrary to her religious beliefs'.
Though the Judges sympathised with Miss Ladle the court ruled that she had not suffered discrimination or harassment because the Islington council had treated her like it would treat any of its other registrars by ordering them to carry out the ceremony.
The judges, then upheld a subsequent appeal tribunal decision that there was no discrimination, overturned an employment tribunal ruling, which, stated that she had been discriminated against.
Christian pressure groups said the court's ruling could mean traditional Christians being restricted from certain jobs.
'Civil partnerships were not being discriminated against, they were able to be performed by other registrars'
A spokesperson for the Christian Legal Centre said Lillian Ladle has been discriminated against because of her Christian convictions. He also said 'the effect of this judgement will lead to religious bars on employment'.
A gay pressure group also commented through it's spokesperson saying, 'We are pleased that the Court of Appeal has upheld the rights of lesbian and gay people to receive public services from public servants'.
The landmark case has been the most important legal test to date in the struggle between Christians and the gay rights lobby.
Originating at thewillnigeria.com