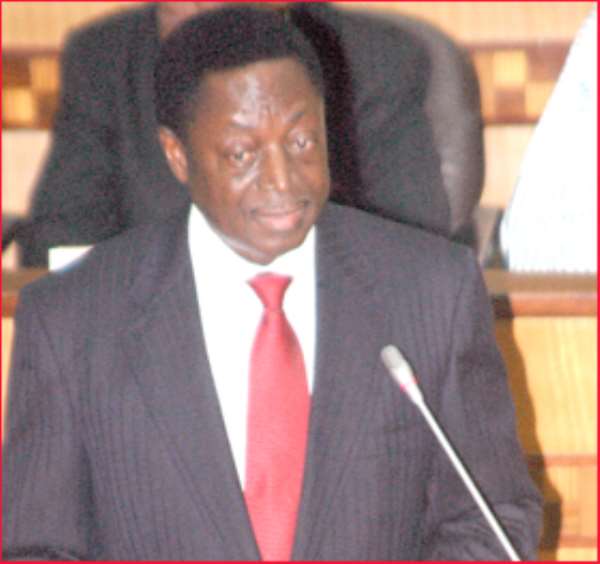 Dr Kwabena Duffuor - Finance Minister
Dr Kwabena Duffuor - Finance Minister Finance and Economic Planning Minister, Dr. Kwabena Duffuor says the 2010 budget released yesterday is targeted at growth and stability.
He said, "Growth and Stability epitomizes the National Democratic Congress (NDC) Government' resolve to grow the Ghanaian economy in a sustainable manner to achieve middle-income status in an environment of stability and hope for Ghanaians."  
"I would like to assure fellow Ghanaians that our foundation is much better than it was in 2008. To achieve the budget goals, we intend to broaden economic opportunities for all by significantly reducing youth unemployment and poverty and deal comprehensively with regional imbalances," he stressed.
Highlighting the budget, the Finance Minister said government' target of drastically reducing the budget deficit in 2009 was largely on track because of its prudent economic management, adding,
"With the fiscal consolidation and macro-economic stability achieved through the implementation of bold and sound economic policies, coupled with the understanding and support of our people, the 2010 budget will usher in the government' growth and strategy framework towards a "Better Ghana."
To this end, Dr. Duffuor noted that the tools for achieving the objectives of the "Growth and Stability" budget are directed towards sustenance of the macro-economic stability and fiscal disciplined that was achieved in 2009.
The rest are the positioning of the country for sustained growth through modernization of agriculture, provision of key infrastructure development, oil and gas projects, private sector development, ICT and delivery of social programmes targeted at poverty reduction.
The fiscal policy, according to Dr. Duffuor, was the most powerful instruments for maintaining macroeconomic stability and growth, as well as for intra-generational and inter-generational transfers of wealth and for correcting market failures.
With regard to oil and gas, the vision of the government is to channel the resources to support the development of petrochemical industries.
On agriculture, the budget pointed out that government would continue to import subsidized fertilizers to enable them improve upon their yields as well as to reduce rice imports in order to enhance local rice production.
The modernization and diversification of the agric sector commenced last year and would continue in 2010 and the medium term.
On roads infrastructure, he noted that work on some major roads, including Anwiankwanta-Yamronsa, Tetteh Quarshie-Madina, Brekum-Sampa, Achimota-Ofankor and Nsawam-Apedwa and Nsawam Bypass, which started during the previous New Patriotic Party (NPP) administration would continue.
Major works on water supply systems in country including the Kpong Water Expansion II project, Koforidua Water project and Damongo Water project would also continue.
Meanwhile, taxes are expected to go up next year as a means of mobilizing more domestic revenue.
They include the bi-annual registration of vehicles by the Drivers Vehicle and Licensing Authority (DVLA) and the re-institution of petroleum taxes and continuation of the fiscal levy and import taxes, among others.
Meanwhile, the economy grew at 4.7 percent in 2009 as exclusively reported by BUSINESS GUIDE a few weeks ago.
Gross public debt however rose from about $458.7 million to $8.517 billion at the end of September 2009.
By Charles Nixon Yeboah