Health Service Motor Riders Update Their Knowledge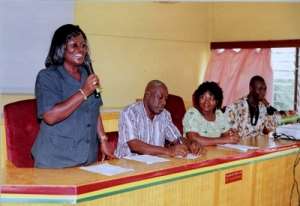 Miss Appah delivering her welcome address.
A six-day motor riders training pro-gramme for selected health personnel from three districts in the Ashanti Region is underway at Nkwawie in the Atwima Nwabiagya District.
The districts are Atwima Nwabiagya, Atwima Mponua and Atwima Kwa-nwoma.
Organised by the Ghana Health Service (GHS), it is aimed at enhancing effective and efficient health delivery services at the doorsteps of communities in which they operate.
The Atwima Nwabiagya District Co-ordinating Director, Mr Charles Oteng, in an address read for him, advised the participants to use the bikes for official duties assigned to them in the communities.
The Ashanti Regional Transport Manager of the service, Mr Patrick Fiagbe, noted that motor – bikes provide mobility for more individuals at any time than normal vehicles, apart from being easy to store in buildings for security.
Miss Beatrice Appah, Atwima Nwabiagya District Director of Health Services, expressed gratitude to the GHS for selecting the district to hold the programme and called for maximum co-operation between them and the facilitators.