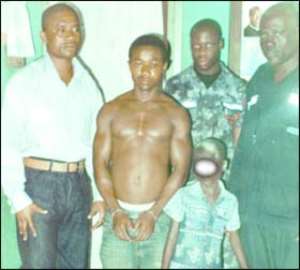 Kwesi Sampson in handcuffs and the victim, Mary Asua
A MAN WHO allegedly kidnapped a 7-year-old school girl; Mary Asua, of Abelebo Basic School in the Ellembele District near Dominase in the Western Region, has been arrested by the police.
The suspect, Kwesi Sampson, a 26-year-old farmer, is currently in police custody at Nkroful in the Nzema area, pending further investigations.
According to a police source, the girl was returning from school last Thursday, 30th July 2009, when the suspect met her on the way and forcibly placed Mary Asua on his bicycle.
Sampson then rod quickly towards the Dominase – Bamiankor road, with the girl sitting in front of him on the bicycle.
Amos Addison, who knew the parents of the girl, incidentally met Sampson on the way and questioned him about where he was taking the school girl, but the suspect only stared at him without any tangible answer, so Addison quickly let the girl off the bicycle.
The suspect sped off, but Addison being suspicious of Sampson's behaviour raised an alarm and the people around gave him a hot chase till they finally apprehended him. 
The source added that, were it not for the timely intervention of one Stephen, a visitor at Abelebo, who posed as a policeman to save Kwesi Sampson, he would have been given 'instant justice' by the irate youth.  
Parents of the girl could not fathom why the suspect allegedly kidnapped their seven-year-old daughter and disclosed that a similar incident happened seven years ago at Abelebo, where their son got missing from the village and has since not been found.
From Sam Mark Essien, Takoradi