Five regions account for 89% road casualties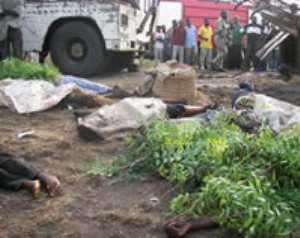 The Greater Accra, Eastern, Ashanti, Western and Central regions account for 89.4 per cent of pedestrian casualties in road accidents and 84.1 per cent of pedestrians fatalities, Mr Nobel Appiah, Chairman of the National Road Safety Commission stated in Accra on Thursday.
According to statistics, nearly 90 per cent of all pedestrian crashes are located in the southern sector of the country, which accounts for 63 per cent of the population, with about 80 per cent of registered vehicles.
Statistics indicate that pedestrian deaths constitute the single largest group of 46.2 per cent of fatalities among all road users. Occupants of buses and mini buses constitute 21.2 per cent and occupants of trucks 10.8 per cent.
Mr Appiah was speaking at a workshop organized by the Kwame Nkrumah University of Science and Technology for Parliamentarians on "Injury Control, Road safety, Trauma Care, and the Road Traffic Act of 2004."
The workshop sought to establish a dialogue between professionals involved with injury control and parliamentarians, school the legislators on the scientific basis for injury control methods, especially those that could be implemented effectively to save lives.
Speaking on: "Pattern of road traffic injuries in Ghana: Implications for control," Mr Francis K. Afukaar of the Building and Road Research Institute in Kumasi said men contributed to about 73.1 per cent of all fatalities and 68 per cent of all casualties.
"Compared with females, the males were 2.73 times involved in road traffic fatalities in Ghana against the backdrop that males account for only 49 per cent of the population," Mr Afukaar stated.
He said the working population (26 to 60 years) represented the majority of all fatalities 50.4 per cent and overall casualties of 60.3 per cent in the country, while one in every four fatalities and one in every eight casualties involved a child.
Dr Ahmed Zakaria, Director for National Ambulance Service, who represented the Minister of Health, called for intensification of national efforts to lower the huge burden of death and disability from injury through improved application of scientifically-based evidence on injury control.
He also called for the strengthening of surveillance, prevention and treatment.
Dr Zakaria said apart from the sorrow, grief and pain caused by crashes, economic reasons also necessitates the urgent need to reduce road traffic injuries.
"Road traffic injuries consume massive financial and human resources that the country can ill-afford to lose…as recent studies have brought to the fore the socio-economic consequences of non-fatal transport related injuries in the country."
He renewed government's commitment to reduce road traffic fatalities and called for collaboration among all stakeholders.