Mandela Boost For Anc Supporters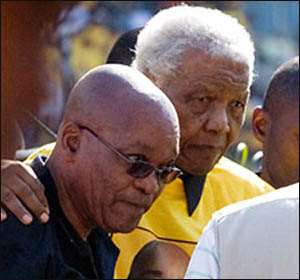 Jacob Zuma and Nelson Mandela Former South African president Nelson Mandela has made an unexpected appearance at the governing ANC party's final pre-election rally. Wearing an ANC top, Mr Mandela, 90, was cheered by supporters ahead of a speech by party leader Jacob Zuma.
Mr Zuma is expected to become president after Wednesday's poll, the most competitive since the end of apartheid in South Africa in 1994.
Breakaway party Cope was also holding its final rally, in Limpopo province.
The BBC's Peter Biles, in Johannesburg, says Cope - The Congress of the People - has changed the political landscape since it was launched four months ago.
Made up largely of former African National Congress members, the latest opinion polls indicate that Cope could get as much as 15% of the national vote.
'Tougher fight'
Crowds at the ANC's Johannesburg rally broke into rapturous applause as Mr Mandela came into the Ellis Park stadium in a golf cart, alongside Mr Zuma.
Our correspondent says the rare public appearance by Mr Mandela is the biggest possible endorsement of Mr Zuma, and conjures up memories of Nelson Mandela's last active campaign in 1994, when South Africa held its first democratic elections.
South Africa's first black president urged the ANC to remember its main task was to eradicate poverty and build a united, non-racial society.
"As we strive to secure a decisive victory for our organisation in the upcoming elections we must remember our primary task. It is to eradicate poverty andensure a better life for all," he said in a brief pre-recorded message played as he sat on the stage.
"The ANC has the historical responsibility to lead our nation and help build a united non-racial society," he added.
Mr Zuma stressed the message of racial unity in his opening remarks to the rally.
"We reaffirm that South Africa belongs to all of us, black and white," he said.
"Working together we will ensure that no South African ever feels they are less valued than others because of their race, culture or religion."
He dismissed the fears of those who had suggested the emergence of Cope would break the ANC's dominance of South African electoral politics, and pledged the party would remain a force for good if re-elected.
"In 15 years that it has been in power, the ANC has never used its electoral mandate to change the constitution, and it has no intentions to do so.
"We'll always uphold, defend, promote and protect the constitution of our country and all our democratic institutions," Mr Zuma said.