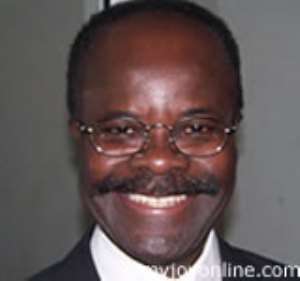 It is said that, a free man, when he fails must blame no one. So why has the Nduom machine of himself and paid agents, David Ampofo, Richmond Keelson and Mrs Nduom got themselves in the twist of blaming everyone but themselves? Should they not have seen it coming?
Long before the Convention People´s Party (CPP) put out the modalities for its congress, Hon. Paa Kwesi Nduom had set up the `Movement´ (a group Nduom founded) which was busy throughout the country registering people to start a new political party. He had often said that the CPP was dead and had no hope in hell to be revived. Offices were acquired in some constituencies and painted white awaiting the launch of his party. A date was set to coincide with ex President Limann´s birthday and he Nduom together with the PNC members of parliament were to launch the new party in Gowlu, Limann´s hometown. This was announced to the whole country and to the hearing of CPP members.
So what happened? Why was the new party not launched? Rumour has it that Hon. Freddie Blay told Nduom that he saw no need to form a new party when the CPP was so weak that he could take it over and run it as he pleased. Another story, or was it just another twist, that he was almost given marching orders by a member of the Patriots group that if he so wished leaving the CPP to set up a new party was an easy exercise, he should go talk to Dr Wereko Brobbey and Goozie Tandoh. That rude awakening combined led him to position himself to take over the CPP. It was amazing how the Party could allow what was close to a hijack. People were moved round to constituencies to help elect Nduom´s `movement´ people into the positions during the elections of the party at those levels.
The movement boys and girls were not CPPists and were told that they were to be the nucleus of a new party. Some were card carrying members of the NDC or NPP or could be described as floating voters. At some stage, some of them felt they had not been told the truth. Nevertheless the Movement train was on causing confusion everywhere. Some elections had to be stopped because persons from outside the constituency had been brought in to vote. Many such cases were reported to the General Secretary, Prof Nii Noi Dowuona but of course, nothing was done about it. They were successful in some constituencies and moved on to the regional elections.
In most of the regions a pick up van was given to one trusted ally to work up the region for Nduom. There were those who worked hard but others just squandered the money given to them. Throughout the regional congresses, bribing the voters was Kwesi Nduom´s mantra. He organized food for the delegates at all the regional congresses and ingeniously wrapped the plastic cutlery with either GHC 20 or 50 note and serviette (paper napkin). It worked in some areas. Other areas, no matter how much he spent there, his men and women lost in the regional elections. It appeared he was being given a run for his money and at every stage he had to jazz up the tempo.
So it was that after all the regional congresses, he realized he had not done enough as he should have. It was clear that every regional congress he stated that his money and cars were ready and that he was not one of those now going to mobilize money for campaign. That he was ready to march the NDC and NPP boot for boot and that whatever they did, he could do better. No `mmobrowa´ campaign was his mantra. He had put out a slate with Ladi Nylander as chairman, Prof Nii Noi Dowuona as Vice Chairman, Ekow Duncan as General Secretary, Nana Kwaku Domfe as National Organizer, Mike Eghan as Treasurer, Rose Keteku as women organizer and Francis Opai Tetteh as Youth Organizer. The Schemer he is, he had arrangements with other candidates outside his list of preferred candidates. He had donated considerable funds to the campaign of Ivor Greenstreet and did not mind sacrificing Ekow Duncan. The key positions he really wanted were Flagbearer, Chairman and Treasurer. The chief architect of his victory, Prof Nii Noi Dowuona, did not matter to him either so long as Nylander, Eghan and himself won their positions. What insensitivity! And this flowed through his campaign as their stock-in-trade. Prof Nii Noi Dowuona had more than One Billion old cedis to organize a congress and what a lousy one he organized. All the confusion was to give his lord and master Nduom a clear advantage.
Discussions on accommodation transport and feeding had fallen on deaf ears and his desire was to give the mantle to Nduom and his men. Nduom came to the congress with truck load of mattresses, bicycles, and food for delegates. Even the delegates list was only about 50% complete and the Professor's explanation was that his computer had crushed. Of course there was no back up and he did not feel anybody had the audacity to ask him why?
It was decided at the National Executive Committee meeting on Friday, 15th December, 2007 that the Serious Fraud Office (SFO) case against Nduom must be brought onto the floor of congress to determine whether or not he should contest the primaries. He (Nduom) had absented himself from the meeting knowing it could be brought up. On the congress floor however, the General Secretary made certain that the issue was not brought up at all. Prof Nii Noi has been more than compensated for by Nduom but now that everything has gone wrong, he seems to have found himself to criticize. A democrat indeed!
The NPP had so much interest in the CPP and the possible outcome of the congress in Kumasi. It had come to the decision that an Nduom win would be good for them. They knew him, they had worked with him for seven 7 years, they had a huge dossier on him from the SFO, his work at NDPC, Ministry of Economic Planning, Energy and Public Sector Reform and were sure that he would give them no heartaches.
On the contrary, the Akosa candidacy offered them great anxiety. His campaign had addressed critical present problems which to many Ghanaians was deemed as an attack on the NPP, the ruling Government and it hurt them big time. He was an Asante man, and between Alan Kyeremanten, (who had declared he was no longer an Asante even though his father was 100% and his mother 50%) or Nana Akufo-Addo who is also an Akyem, the NPP believed their world bank which is the Ashanti Region would greatly be affected to their disadvantage. Senior members of the NPP and the State Intelligence units had to mount serious nosing to find out who was wining the CPP flagbearership. The evidence pointed to a win for Akosa from every indication right from day one of their covert scheming. It therefore became necessary to stop him. Billions of cedis were poured into the congress on the Sunday 17th December. Paa Kwesi Nduom received a windfall. Francis Poku, Kan Dapaah, Freddie Blay were all in town to hand over the largesse to the Nduom Campaign.
Some regional chairmen were given 50million cedis with a promise of a brand new pickup to go home with if Nduom won. 25 constituencies we hear did not arrive at the congress. They were given money and Nduom´s men organized people from Obuasi to come and vote as representatives of those constituencies. Delegates from the three (3) northern regions were paid a million cedis and a mobile phone in exchange for their delegate badge and non delegates were brought in to vote for them.
The Electoral Commission Officers had been greased appropriately. The Council of Elders, chairman of the congress had all been paid to support Nduom.
So it was that Nduom won as flagbearer, Nylander as Chairman, Eghan as Treasurer, and Ivor Greenstreet as the General Secretary. The National Organizer, Women Organizer, and Youth Organizer were not from Nduom´s camp.
Elections were over and work had to be done. What was strange was that Nduom had won his most revered positions but their mindset did not leave Kumasi where the congress was held. To them there was still an Nduom and Akosa faction. They set out not to work with anybody who was identified as an Akosa supporter. The formation of various national committees was plagued by their inability to work with the so called Akosa men. As if that was not enough, the text messages to insult Akosa and his team that run through the period to the congress continued after congress.
Nduom believed he was more popular and `credible´ than the Party and therefore continued to operate from his campaign office. He had nothing doing in the Party headquarters. If there was to be an event in the name of the campaign, it would have to be at his private campaign office. What he and the Party did not realize was that the Party had elected the worst chairman ever. Ladi Nylander as the Chairman and Leader of the CPP can only be described in generous terms as worse than useless. He does not even know how to chair a meeting and surprisingly the General Secretary does not know how to take minutes. Meetings in the Party have therefore been uncoordinated and have achieved very little results.
For a party that believed in `organization deciding everything´, there was no properly set up organizational committee. Nduom appointed his campaign staffers all paid for whatever they did. They run a presidential style campaign in a parliamentary democracy. Throughout the campaign there was no coordination with Regional and Constituency executives. While they were in the media all the time, there was nothing happening on the ground.
The readiness of the cars and money as well as the `no mmobrowa´ campaign had turned into the worse mmobrowa campaign. Nduom left for America a few times to fundraise alone and whether he accounted to the Party for any fund raised only God knows. Throughout the year 2008, not a single fundraising event was held by the Party. The Party had no money to help build up the structures in the constituencies. They had no time at all to meet and discuss constituency issues with executives. In so many places they created parallel structures and worked with those people rather than the duly elected representatives. Some of the people constituting the parallel executives had contested and actually lost elections during the run up to congress. That explains why there was constant rife and struggle within the CPP at all levels.
A few heated arguments ensued as a result of this behavior. Nduom had visited the Northern region but had not bothered to get in touch with the regional executives. He was meeting with his movement people when the regional organizer appeared. He was told that Nduom was there in his private capacity and was free to meet people he chose. Such was the behavior of the Nduom group throughout the campaign.
Nduom kick started his campaign by visiting markets and lorry parks with his wife, brother-in-law and a few of his campaign team. Everywhere they went; either the constituency executive did not know about their visit or were brought in at the last minute without any input from them. After every function, the Nduom team just left without any meeting or discussion of review. One of their popular refrain was `we also have our problems to deal with and had not come to discuss anybody's problem´. So it was throughout.
Having sidelined many people, created parallel structures, conducted a self styled presidential campaign in a parliamentary democracy, Nduom's team now blames everybody but themselves for the lack of funds and poor results. The national youth organizer having sat through meetings where the Leadership lacked courage to discipline the flagbearer for not using Party structures and considering the complaints that were flooding the Party headquarters and nobody was prepared to deal with them had no choice but to write to the chairman. This attempt would be turned by the Nduom mafia headed by Paa Kwesi Hubster Yorke Nduom and David Ampofo by leaking the letter to the press. Everything the National Youth organizer said was true and the entire Leadership and Central Committee knew the facts on all the issues raised. Internal memos can only be leaked in organizations that are not disciplined. It is sad to say this but that is what the CPP under the current Leadership has become.
After the most disastrous results ever of the CPP 1.34% and a single member of parliament, the leadership and flagbearer have shown no dignity left. They have no humility in them to do what dignified people do. To thank membership of the CPP for the honour and confidence reposed in them, to apologize profusely for the disastrous performance and then resign. I do not believe the framers of the Party constitution ever envisaged that there will ever be such bad and totally inept leadership and did not introduce a contemptuous clause against such useless leadership.
The flagbearer by the constitution loses the title immediately the election is over and the Ghanaian media must acknowledge that. Paa Kwesi Nduom is no other that I know. A man who believed he is more popular than the Party but did not get more votes than the aggregate of the Party's constituency parliamentary votes.
It turned out that he had no cars and no money and thus he prosecuted most `mmoborowa´ campaign the Party has ever known. Total deceit but turns round to blame everybody else but themselves. Of course he courted the media very well and still now pays through his nose to get himself front pages of the popular news papers and also get himself and his mafia in the news. People have said he does not look presidential; that he stays above the parapet, has his mafia to do the dirty for him and that is not trustworthy. He has been described as a trickster worse than Dr Acka Blay Mieza. Nduom will take the CPP nowhere.
What has worsened the issue is the admission by Nduom that he had been prevailed upon by Fanti chiefs in Central and Western regions to step down for Prof Mills. Did he discuss the issue with the Central Committee? Or what did he do about it when the information came? These are the issues that must engage the minds of Central Committee. After putting CPP and her members through this grave humiliation and not having the courage to accept failure is a mark of non leader. Nduom is surely no Leader by any means. An egotistical person who is only interested in writing his curriculum vitae and advancing himself. The practicing capitalist that he is, he believes everybody has a price and is quick to pay money to influence people.
Nduom is a known CIA agent recruited in Arizona after a mega insurance fraud and helped change his name from J H Yorke Jr to Paa Kwesi Nduom. He has managed to fool some of the people so far but should be made to know that he surely cannot fool all of the people all of the time. The protector of American interest in Ghana, it is not surprising that he had been invited to the so called `breakfast meeting in America´. If his aim is not to destroy the CPP then only he knows what his aim is.
Double standards do not pay. Still heavily in bed with the NPP, Nduom collected a lot of money to campaign for Nana Akufo-Addo in the second round of the elections under the cloak of neutrality. He was indeed working it out with Prof Mills and the NDC. A skillful operator, he ended up being the winner on both fronts. After all, he got enough money to prosecute another self glorification for 2012 and the guts to present a list to the NDC for positions. Thank God the NDC and Atta Mills were smart this time to treat him with the disgust he deserves.
The CPP hierarchy has not behaved themselves well at all. Everybody wanted a job. The list starts with Chairman Ladi Nylander, Abu Sakara for Agriculture ministry, on both NDC and NPP sides, Araba Bentsi Enchill for Council of State but I believe she forgot that they are voted upon or did I get it wrong there may be direct government appointees? Mike Eghan wanted either Council of State or Ambassadorial position. For Kwesi Nduom, he wanted the assurance that the long haunt by Dr Tony Aidoo does not result in a prosecution on the SFO report. It is the only thing that gives him the jitters because he knows deep in himself what the repercussions are.
The CPP must be introspective. All the leaders must ask themselves what they have done to advance the Party. If they know they have done nothing then the most honourable thing to do is to resign. If not then they are not honourable people. We must say a big NO to the refilling of Paa Kwesi Nduom and his paid agents like David Ampofo who knows nothing about the CPP anyway. Let it not be said that the acquisition of party card (through fair or foul means) makes someone CPPist.
THE PARTY MUST SIT UP AND CHART ITS COURSE AND LIVE BY ITS SLOGAN FORWARD EVER! BACKWARD NEVER.
Credit: Courage Quashiga
[Email: [email protected]