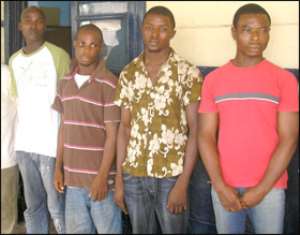 A cross section of the robbers with Elorm (3rd R) Eleven armed robbers including one Elorm Tay, who was allegedly involved in the Ecobank robbery that claimed the life of one policeman at Madina, were on Monday identified in a police line-up at the Regional Police Headquarters in Accra. 
The eleven, are Kwasi Kwarteng, Awudu Isufu, Isaac Akorli, Douglas Seshie, aka Rasta and Augustine Ofosu. The rest are, George Agbeko, Elorm James Tay, David Aworma, Kwame Adjei, Richard Ken and Paul Tamakloe.
Awudu Isufu, 19 was identified by one of the five victims who were present.
It would be recalled that in May last year, the Madina branch of Ecobank was attacked by gun men who shot and killed a policeman on duty.
The robbers succeeded in robbing the bank of several thousands of Ghana Cedis.
The police have since then not rested on their oars in the search for the gun men which included one Mathias Tegah, Kofi Fiagbedzie, aka Spider, Not Nice and Lion.
The arrest of Elorm, who is also an accomplice in the said robbery and several others in Accra, is therefore a feather in the cap of the police.
Recently, Mathias, who is said to be the ringleader, in the company of other accomplices, attacked a woman and her family who were then on their way to the Kotoka International Airport (KIA) to board a plane to the US.
He succeeded in robbing her of a colossal sum of $67,400 and other valuables.
The group has been cited in several other robberies especially in and around Spintex Road.
The police have appealed to the public who may have information about their whereabouts to volunteer such information, in order to assist the police to clamp down on crime in the country.
The police have also put a GH¢ 2,000.00 reward on each of the robbers.
By Rocklyn Antonio