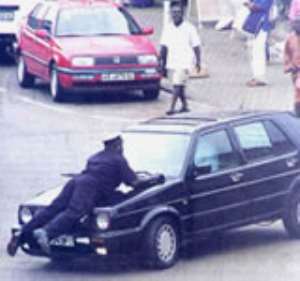 A former commander of the Motor Traffic and Transport Unit of the Ghana Police Service, ACP Victor Tandoh says the Unit should be transformed into an autonomous motor traffic unit.
The recommendation for the MTTU to be made independent was proposed by the late Justice Archer Committee set up in 1997 to reform the Ghana Police Service.
ACP Tandoh says like officers of the Criminal Investigations Department of the Service, MTTU personnel will be more disciplined and committed if the unit is made autonomous.
He noted the recommendations of the Archer Committee had remained on the shelves for far too long.
According to him, the practice where the Road Safety Commission spent money and time to train officers of MTTU only for them to be transferred to other departments of the Service was not helpful.
That for him amounted to waste of time, money and more importantly the experience gained from the training.
ACP Tandoh also bemoaned the fact police personnel who had not been trained to do the job of MTTU often tried to do motor checking.
"The policeman at the Police Barrier is supposed to perform different duties but occasionally you find them doing MTTU job…as to whether they do it perfectly or not is another issue."
He stressed that traffic offenders should be handed over to the MTTU for.
He contends making MTTU autonomous will also improve the traffic control system in the major cities.
Story by Malik Abass Daabu