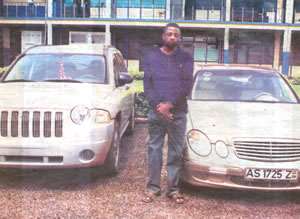 The Ghana Police Service has warned of an upsurge in the activities of car-snatching gangs in four regions in the country.
It mentioned the Ashanti, Greater Accra, Western and Volta regions as where the activities are on the increase.
It has, accordingly asked drivers, both commercial and private, to be conscious of the latest crime tactics and take precautionary measures to avoid falling victim.
Explaining the latest method adopted by the car-snatching gangs, the Director of Public Affairs of the Ghana Police Service, DSP Samuel Kwesi Ofori, told the Daily Graphic that the criminals usually agreed to whatever amount charged by taxi drivers to their purported destinations and end up robbing the drivers of the vehicles.
He explained that after agreeing to a fare, the suspect or suspects proceed to ask their victim (drivers) to take them to other places to enable them (suspects) to attend to something crucial before heading for their original destinations.
DSP Ofori said the criminals used other gang members to trail the unsuspecting driver or wait for them at desolate places where they attacked the driver.
"Some suspects also ask their victims to stop at odd places to enable them to pick either their luggage or a friend and end up attacking them," he said.
He said on the motorway, for instance, some car-snatching gangs deliberately hit the rear of their victims arid get them to park.
Upon stopping, he said, the suspects rob the victim of his or her car and speeded off.
With regard to private or non-commercial vehicles, DSP Ofori said, the suspects often used women to solicit "lift" at isolated areas such as beaches, outskirts of towns and places not well lit at night.
According to him, upon stopping to offer the lady a "lift", the accomplices emerge from dark places to snatch the vehicles away.
DSP Ofori said some motorists also failed to remove their ignition keys and left the parked cars unattended to.
He explained that such acts on the part of drivers also made the work of car snatchers easier.
He said the police patrol teams had intensified their patrols, both day and night, to help combat the car-snatching menace.
DSP Ofori, however, said drivers needed to be vigilant and monitor persons who boarded their vehicles.