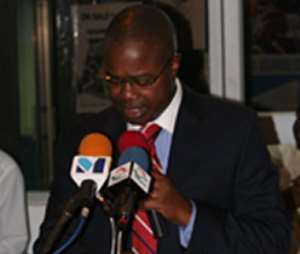 The Managing Director and Chief Executive Officer of Unilever Ghana Ltd, Mr. Charles Cofie, last week addressed participants at the Chartered Institute of Marketing, Ghana (CIMG) advocacy programme on the topic "Marketing in the Boardroom Do you want to be a CEO?"
That such a big-wig as the President of the Association of Ghana Industries (AGI), Mr. Tony Oteng-Gyasi, among others, was in attendance is testimony to the high regard in which Charles Cofie is held as one of Ghana's foremost CEOs.
And Cofie did not disappoint.
He left no-one in doubt that the role of CEO is one position that a successful career path does not lead to, but rather one that is conferred on a nominee by a person or group of persons who have the power to do so and who believe that a potential appointee has the grit in his stomach, ambition in his eyes and passion running through his veins to succeed in the job. It is therefore one's responsibility to develop oneself to increase the likelihood of being designated CEO.
The characteristics essential to position you at an advantage, are not traceable to your genes. They are naturally from skills you acquire, but most importantly from habits you form that differentiate you from the pack. He gives you the sense that there is a deep spiritual dimension to the effort.
The most important skills to acquire are diagnostic skills and transformational change management skills, coupled with excellent interpersonal skills.
While technical skills are essential because they indicate what you can do, at higher levels of company life such skills are taken for granted. "The distinguishing factor becomes the competencies or desirable traits we exhibit," Charles Cofie says.
Competencies relate to how you do what you do. "As we advance in our careers, behavioural changes are often the only significant changes we can make," he said, adding that your behaviour then determines how high you will go.
He draws a clear line: there is a point where successful managers transit from 'doing the right things' to 'doing things right' and in that regard, failure plays a critical role because it changes the course of action and thus guides us on what new commitments to take. Therefore, "it is best to fail early, fail often, but always fail forward."
Cofie's own life experience is his best teaching aid, having learned early that "managerial differentiation is based on what you do, not what you are capable of doing". He outlines ten things that he must have done right on the way to the top.
First, you need to take responsibility for your career. Just as one has to sell himself to prospective employers at a job interview, in the corporate world one has to sell himself professionally at every step of the way. Selling yourself is a positive demonstration of the skills and desirable competencies you have imbibed. Selling oneself should not be confused with promoting oneself. Self-promotion is negative if you seek to project an image that is entirely self-serving.
Then there is personal productivity: "In my own competitive mind, I calculated that if I could put in an extra two hours of productive work between the hours of 6am and 8: 30 a.m. when I expected others to arrive and settle down for the day, in the course of a normal 9-hour corporate workday, I would deliver at least 22 percent more output than my peers. I can assure you that this level of productivity does not go unnoticed". As CEO, he still maintains this time schedule, because he realises that when people become successful, unfortunately, they stop doing the things that made them successful in the first place.
Think, write, speak; Cofie says the primary means of communicating with management is in writing. He underscores the points that while eloquence and effective presentation skills are much-prized attributes, it is important that you learn to think, write, and speak in that order.
He advises: "And there is no place for emotions in rational justification. You need to know your marbles, and strip proposals of any emotional undercurrents as this does incalculable harm to a business proposition."
Then there is the need to be forthright; saying what you mean and meaning what you say.

You also need to stay focused, keeping your eyes on tomorrow. Focus the attention of decision-makers on the few things that will make a difference; those issues that are important but not necessarily urgent, since "fire-fighting" today does not build for tomorrow.
You must also be on time and in full. You need to know when you have done your best work. Ask yourself 'If I'm given three more days to complete this assignment, what would I change?' If nothing else, you know you are there! Your work is your portrait of yourself, so autograph it with pride and be prepared to delay gratification in order to achieve excellence.
Irrespective of how busy you may think you are, remember that you are working for your boss; you must therefore make time for your boss. What work he gives you to do is what he 'sees'.
Endeavour to be a source of energy to others rather than a drain on their energy. When people leave your presence, are they upbeat and motivated or downcast and depressed?
And finally, maintain your integrity. Integrity is the foundation of leadership, and questions bordering on graft will destroy any chance you have of getting to the top.
Cofie says - contrary to conventional wisdom that knowledge is the source of your power - the only power source you have is your commitment. "If you are ever in an uncertain situation, which abounds in corporate life, ask yourself 'if this business were mine what would I do?'. Think to yourself that "if it is to be, it is up to me." Think to yourself that 100 percent is possible 100 percent of the time." And think to yourself "how far will I go if I believe in what I am doing?"
You must have a personal vision for your life which clearly defines what you can be the best in the world at doing, and what drives your economic engine.
Though Cofie started his address by emphasising that he wasn't sermonising, he couldn't help a bit of it in his conclusion. He says "In your quest to 'Become a CEO; I urge you to learn every day so as to develop yourself; share your learning relentlessly, have a positive attitude and spread it around. Never let yourself be a victim.
He says "It shall be done to you according to your faith," so 'Think Big, Start Small, and Move fast".
Credit: Emanuel Kwablah;
[email protected]: B&FT