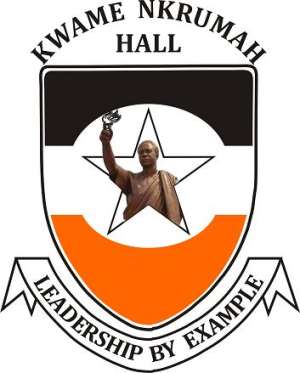 The Governing and students of the hall of excellence, Kwame Nkrumah Hall of the University of Cape Coast is calling all her Alumni to come home to celebrate a special programme dubbed "ALUMNI HOME COMING".
The Home coming is part of the 11th Hall week celebrations (2nd -8th March, 2009) which make the day special.
It comprises a durbar in the morning and a dinner in the Evening. Come and feel part of this memorable day as we share ideas in attaining the Hall's Vision.
COME AND MEET OLD FRIENDS AMD MAKE NEW ONES
DON'T BE A DROP OUT.
GUEST OF HONOUR: THE VICE CHANCELLOR, PROF.(MRS)NAANA J. OPOKU AGYEMANG
THEME:"ALUMNI PARTICIPATION IN THE HALL'S VISION"
DATE: 7TH OF March, 2009
VENUE: Fore Court (Old Polo Grounds) of the Hall
TIME: 10:00am
E-Mail : [email protected]