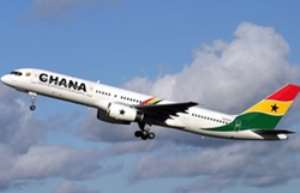 With cup in hand, Ghana International Airlines Limited (GIAL) is seeking a US$52 million government bail-out to transform itself into a profitable airline.
Presently, GIAL needs US$1.5 million monthly assistance in the form of credit from government to enable it to operate as it awaits a decision on the bail-out.
GIAL also wants an aircraft for its Airline Operators Certificate (AOC).

This was contained in a business plan sent to government by GIAL on the way forward in transforming the fortunes of the airline.
So far, total cash injections of government into the airline's operations as at 31st December 2008 amounted to US$52.3 million, including US$800,000 received in early January.
Some official documents of GIAL gleaned byB&FT show that the airline is prudently treating the debt on its books as a loan to be later repaid.
To put it in an historical perspective, GIAL was formed by the Government of Ghana in 2005, with the government holding a 70% share and GIA-USA Inc. holding the remaining 30%. Management of the company was ceded to the Minority under a signed agreement.
GIAL commenced operations on 29th October, 2005 with a single wet-leased aircraft on the Accra-London route, but the Government of Ghana dismissed the Minority CEO on 7th April 2006 - resulting in the Minority refusing to take further part in the management of the company.
The Minority later filed legal papers against the Government of Ghana at The Hague for wrongful dismissal and redress. GIAL was also a co-defendant in the suit.
Even though the case has become a legal quagmire to date, the Minority has however indicated its willingness for arbitration.
Consequently, in January last year, the board of GIAL - together with some government ministers including the Ministers of Finance and the Attorney General, met in London at the office of the External Solicitors for the Government of Ghana over the case.
After the meeting, GIAL was advised to form a Special Purpose Vehicle (SPV) company to enable it to circumvent the legal impasse.
B&FT further learnt that board of GIAL, soon after the meeting, presented the government with a Business Plan to address the SPV formation to enable GIAL procure its own aircraft for the AOC procurement. The business plan, which was to enable the airline to wean itself off the US$1.5 million monthly financial support from the state, did not get any response from government. .
In mid-2008, the Board again presented the Government of Ghana with another business plan again to enable GIAL to wean itself off the monthly US$1.5 million financial assistance, and also for GIAL to procure AOC.