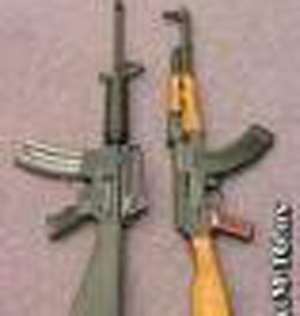 AK47 Rafle Two persons have been arrested by the Northern Regional Police Command at Lamashegu, a suburb of Tamale, in their attempts to smuggle guns into the city in the wake of renewed fighting in the area.   
Bomadi Sulemana, driver of a private Peugeot car with registration number AS 2637 V and Zakaria Abdul were immediately arrested upon a tip-off that they were importing weapons into the region.
One Halik who was among them managed to escape arrest but the police have mounted a search for him.  
Upon their arrest, the police retrieved 11 pockets of AAA top-man live cartridges each pocket containing 21 pieces and 21 pockets of BD super Hardcore cartridges from them.  
They have currently been placed in police custody pending further investigations.
The swoop by the security to retrieve weapons is also yielding positive results as a 1 SMG riffle with registration number NR 3237, a locally manufactured shot gun and a quantity of unspecified AK 47 ammunitions were retrieved from some individuals by a combined team of military and police personnel.
The 18 suspects who were arrested and put before a Tamale circuit court presided over by Mr. John Nabrese were remanded in prison custody to reappear on the 4th of March 2009.  
The 18 included Mohammed Fusheini, Innusah Yakubu, Yahuza Yakubu, Mohammed Iddrisu and Zakaria Fusheini.
Others were Gafaru Yakubu, Abdul Rauf Yahia Iddrisu, Majeed Alhassan Shamuna Yakubu, Osama Sulemana and Alhassan Salifu.
The rest were Issah Adam, Ziblim Salifu, Soale Adam Iddrisu Fusheini, Abukari Abdulai and Yakubu Nashiru.  
Charges of illegally possessing weapons, destruction of property and rioting were preferred against them.  
The Northern Regional Police Commander, DCOP Ofosu Mensah-Gyeabuor, at a media briefing, disclosed that the police were on the high alert to nib any recurrence in the bud.
From Stephen Zoure, Tamale