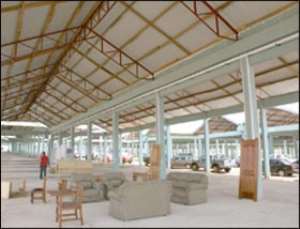 The Wood carving business at Aburi is gradually collapsing as a result of their relocation, when the Mamfe-Accra road was being constructed.
Patronage of the carved items has declined drastically and most of the shops have been closed down, rendering the hitherto hard working carvers jobless in the area.
This came to light when members of the Believers Cooperative Carvers Society at Aburi on Wednesday held a meeting to discuss matters pertaining to their welfare.
The Chairman of the society, Mr Eric Danquah, explaining their predicament to the GNA, said in 2004 when the Mamfe-Accra highway was awarded on contract for construction, they were asked to relocate to make way for the commencement of the project.
He said as part of the agreement for their relocation, they were promised a compensation package to enable them to resettle, until a modern craft village with facilities were provided for them.
According to the chairman they were not told how much compensation would be paid them but the Chinese contractor executing the project gave some of them moneys ranging between GH¢100 to GH¢300 in 2005 to enable them to build temporary structures at the new site.
Mr Danquah indicated that the craft village was however given to a contractor who started working on the structures but it had been abandoned about three years ago.
He said no compensation had been paid to anyone except the moneys given to those who were directly on the project line by the Chinese contractors.
Mr Danquah pointed out that their relocation had pushed them away from the wayside so travellers and the public do not see their finished products to attract them as it used to be.
He said the difficulty in raising a capital to settle at the new site had also contributed to the collapse of their business.
Mr Danquah said their own investigation revealed that, it was the Ghana Highway Authority that had to pay them the compensation, but nothing had been heard from them and the craft village had also been abandoned.
He accused the Akuapem South District Chief Executive (DCE) for ignoring them on several occasions when they sought audience with him with the explanation that the assembly owed them nothing as far as their businesses were concerned.
The carvers have therefore called on the government to come to the aid of the carvers by ensuring that their compensations were paid and the craft village constructed, since they honour their tax obligations
GNA