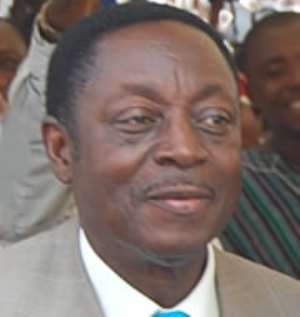 The NDC has targeted a 9-percent budget deficit at the end of the 2009 financial year, representing a five-percent reduction from the current 14 percent.
This was disclosed by Dr. Kwabena Duffuor during his vetting by the Appointments Committee of Parliament on Tuesday.
The economy is said to be facing difficult challenges with a 14 per cent budget deficit, but Dr. Duffuor maintained it is a challenge that can be resolved with prudent policies.
Dr. Duffuor cautioned against the reference to the economy as broke, saying, it might create a panic situation in the business community.
"Money like good news does not need a tense environment. Once there is tension the money vanishes," he emphasised.
He noted his primary objective, if approved, would first be to stabilise the economy, before looking at the various social interventions promised in the party's manifesto.
He was also hopeful the 3 percent budget deficit proposed in the party's manifesto is realistic and achievable without compromising on the numerous campaign promises.

The minister-designate also proposed the automation of various revenue collecting agencies as a measure in fighting systemic corruption.
According to him, the manual interventions employed at the various revenue agencies have encouraged the practice of corruption and called for immediate solution to the canker.
Governments have stopped short at meeting revenue targets largely because of endemic corruption in the sector.
But with the duty to fulfil many of the campaign promises, Dr. Duffuor reiterated the party's commitment to reducing corruption as a function of increasing revenue.
Dr. Duffuor gave the assurance"without the computerization of the agencies, we will not be able to achieve our target. It's our target and we would like to do it."
The NDC government has its priority to improve revenue generation through an efficient tax administration and would not renege on its promise.
Having been chairman of Star Assurance and Unibank, two financial institutions in the country, Dr. Duffuor dismissed perceptions of conflict of interest if approved as Minister of Finance.
"I will make a full disclosure of my assets as enshrined in the constitution," and shall create a blind trust to divorce my duty as finance minister from all other duties, he pledged.
Dr. Kwabena Duffuor quoted Ghana's economic growth rate at 6.2 per cent for the year 2008, but said a final figure would be generated by the statistical board later in April.
Story by Nathan Gadugah