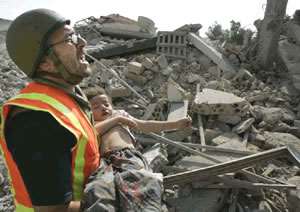 Israeli aircraft have bombed a Hamas security target in Gaza City and tunnels used by the militant group along the border with Egypt.
There were no reports of casualties after the strikes late on Sunday.
Israeli PM Ehud Olmert earlier vowed a "disproportionate" response to rocket attacks on Israel from Gaza.
He was speaking soon after at least two rockets hit southern Israel. Later three Israelis were injured in a mortar barrage by Palestinian militants.
Late on Sunday, Israeli aircraft carried out a strike on an empty Hamas police station in Gaza City, Palestinian witnesses say.
They say the building had been vacated after an Israeli warning to residents to leave the area.
Palestinians also reported explosions in Rafah on the Gaza-Egypt border, where Hamas operates tunnels to smuggle in weapons and food.
The Israeli army has so far made no comments.
Abbas criticism
Two weeks ago, Israel and Hamas - which controls Gaza - declared separate truces ending a three-week conflict.
Palestinian Authority and Hamas officials are gathering in Cairo for talks aimed at boosting the ceasefires.
An adviser to Ismail Haniya, who heads the Hamas government in Gaza, told AFP news agency the militant group was waiting for Israel's response to a truce offer, transmitted by Egypt, adding that things were "moving in a positive direction".
The Egyptians have been leading efforts to broker a permanent ceasefire by holding separate talks with officials from Israel and Hamas.
But Palestinian leader Mahmoud Abbas told journalists in Cairo that talks were impossible with anyone who rejected the supremacy of the Palestine Liberation Organisation - in an apparent reference to Hamas's leadership.
He also accused Hamas of having "taken risks with the blood of Palestinians, with their fate, and dreams and aspirations for an independent Palestinian state".
Civilian casualty
Israel wants the rocket attacks to end and wants to prevent militants in Gaza from being able to rearm.
Hamas wants the border crossings into Gaza to be fully opened to end a 18-month blockade of Gaza.
Speaking at the weekly Israeli cabinet meeting, Mr Olmert warned Israel would respond forcefully to renewed rocket fire.
"We've said that if there is rocket fire against the south of the country, there will be a disproportionate Israeli responce to the fire on the citizens of Israel and its security forces," he said.
"The response will come at the time, the place and the manner that we choose."
His strong stance was echoed by Foreign Minister Tzipi Livni and Defence Minister Ehud Barak.
Soon afterwards, militants fired mortars at an Israeli village near the Gaza border, injuring two soldiers and a civilian.
The civilian casualty is the first since the 18 January ceasefires which ended Israel's three-week assault on Gaza, which it said was aimed at stopping rocket attacks.
Earlier, a rocket landed between two nursery schools in Eshkol region of southern Israel, media reports said.
On Saturday, a rocket fired from Gaza exploded near the Israeli city of Ashkelon, with no casualties reported, and at least two were fired in the days before.
The ceasefires, independently declared by each side, have been violated several times.
An Israeli soldier was killed in a bomb attack on the Gaza border last Tuesday. Israel responded with air raids and a brief ground incursion by soldiers and tanks.
About 1,300 Palestinians and 10 Israeli soldiers were killed in Israel's devastating three-week assault on Gaza. Three Israeli citizens died in rocket attacks.