Angela Dwamena-Aboagye receives Peace Award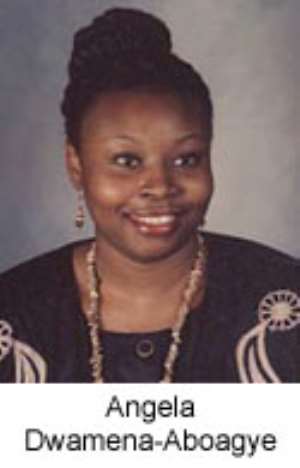 The United States Embassy in Accra on Thursday presented the 2009 Martin Luther King Peace and Social Justice Award to Ms Angela Dwamena-Aboagye, Founder of a gender advocate group, Ark Foundation, for personifying the philosophy and actions of Dr. Martin Luther King Jnr., a US civil rights leader.

The award recognizes Ghanaians who have helped to build a culture of peacemaking, dialogue and conflict resolution as well as people who have promoted social justice, stability, human rights and peace through non-violent means.

The first award was presented to co-winners Bishop Vincent Boi-Nii and Alhaji Al-Hussein Zakaria.

Bishop Boi-Nii was presented with the awarded for his leadership and courage in establishing and guiding the Yendi Peace Committee following the assassination of the Ya-Na in March 2002, while Alhaji Al-Hussein Zakaria was rewarded for challenging fellow leaders in Tamale to deliver a public message of peace and dialogue.

Mr Donald G. Teitelbaum, US Ambassador in Ghana, speaking at the presentation said throughout history peace awards had served to bring attention to humanitarian causes and work that otherwise had gone unnoticed.

He said peace awards also recorded mankind's highest ideals and aspirations serving as guideposts on the pathway to peacemaking.

The Ambassador said the increased visibility that awards provided translated into increased public awareness.

He said in the case of Martin Luther King Jnr., the US civil rights movement in the 1950s and 60s changed the face of America and drew international attention to what was happening in the country.

Ms Dwamena-Aboagye, in her remarks thanked the US Embassy in Accra for the award and the recognition of her effort in advocating for the rights of women and children in Ghana.

She said the establishment of a crisis and a legal centre by the Ark Foundation to provide counselling services to victims of sexual and gender-based violence in parts of the country went a long way to raise awareness in these areas.

She described the other five nominees for the 2009 Peace Award as equally important people who had contributed to the promotion of peace, justice and human rights and deserved to share in her award.

The nominees for the 2009 award included Ms Afi Azaratu Yakubu, the Rev. Prof. Abraham Berinyuu, Mr Anas Aremeyaw Anas, Dr Yao Graham and the Rev. Dr Fred Deegbe.