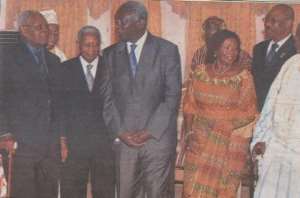 President Kufour poses with some of the members of Council of State
The Council of State has applauded President John Agyekum Kufuor for his record achievements and legacies of his eight-year administration.
'At this time, as we draw to the end of our term, it is appropriate for us to congratulate you most warmly on your many achievements, from overcoming our HIPC economic condition at the beginning of your term in January 2001 to several successes and legacies, which you are about to leave for your successor.'
Professor Daniel Adzei-Bekoe, Chairman of the Council, cited the fields of education and health, energy and infrastructure and said the nation has indeed now been prepared for an even brighter future.
He listed priced physical monuments President Kufuor was leaving the nation, which include the impressive football stadia in Accra, Kumasi, Sekondi-Takoradi and Tamale and the imposing Golden Jubilee House, the new seat of Government and official residence for the President.
'Many organisations have recognised these achievements, not only in Ghana but on the international scene, ECOWAS, and in the African Union.' He said these in opening remarks at their quarterly meeting with President Kufuor at the Credentials Hall of the Castle, Osu.
Touching on the impending December 7, general polls, Professor Adzei-Bekoe said the Council in common with a lot of organisations in Ghana, has been worried about the maintenance of a peaceful atmosphere before, during and after the elections.
They have already met representatives of the participating political parties, the Electoral Commission and security agencies. He said it is re-assuring that, in spite of all the preparations to deal with the obstacles, all concerned advised vigilance as key to peace.
President Kufuor maintained that the country is on the right course and must stay on it. 'Ghana is truly enjoying so much popularity because of the good governance we have given ourselves.' He said it is therefore in the nation's interest that the people did not allow themselves to be swayed by half-truths, spurious claims and posturing.
His Government, like any other human institution, did not claim perfection, but the fact is that they have done 'very well' and can 'meet every Government eye-ball for eye-ball and boot for boot.'
'Our achievements are there for all to see.' He repeated his Administration's commitment towards peaceful and credible elections, whose outcome will be acceptable to all.