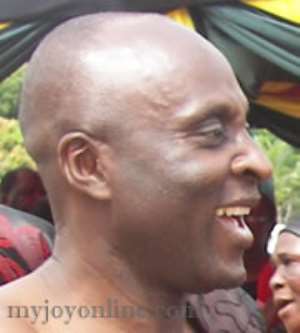 Nana Kofi Coomson, a former Editor of The Chronicle and a failed New Patriotic Party (NPP) parliamentary aspirant, has said that he is at a loss as to why the National Democratic Congress (NDC) would like to shore up their flagging fortunes by exploiting his name, even at the twilight of their campaign.
The NDC, he said, had taken their efforts to such a ridiculous extent that they have had to deploy their youth wing to breath some fire into their campaign, by constantly seizing upon what he called his 'brand name' because he was a scourge to drug traffickers and corrupt elements in high places, only during the PNDC and NDC regimes right from 1991.
"How disingenuous and misguided,", Kofi said, "just when I have decided to further the cause of peace and tranquility in the country, by keeping my sword in its scabbard, the self same people from that era, have roused me from my slumber and retirement from journalism, and new calling.
"The way they exploit my name gives the impression that I am some sort of a superman… I am not the only journalist who did not support Akufo-Addo from the beginning until congress elected him as the candidate.
"Why can't we draw some lessons from the American elections, where Hilary Clinton and John McCain fought bitter grueling elections, and are now working together to help America, which is now in recession…
"Can't they see Hon. Osafo Maafo and Mr. Boakye Agyarko, who dueled Akufo-Addo, now the closest lieutenants of Nana Addo?.. Is it not a lovely sight to behold and to encourage…? Is Nduom not saying that he would work with Mills and Nana Addo in his government? It's always the supporting caste that tries to drive a wedge between our leaders, and this must stop."
Continuing in an agitated way, Kofi Coomson, who says that he knows Nana as someone who likes to laugh, and is very competitive, recalled that the NPP flagbearer had paid his dues, because among other things, he was a campaign manager for other presidential candidates like Professor Adu Boahen.
"I can tell you from personal knowledge, since I got involved with him since 1990. I have watched him closely as a journalist, seen him just in and out of court and exchange banter with fellow contending lawyers on the other side after court.
When he was pressed on the subject of drugs, which the NDC had been shouting itself hoarse and clothing themselves in piety, he referred to the Benneh case and the fact that Nana Addo has vouched to tackle the troubling menace of drugs in Ghana, by proclaiming that he intends to create an interagency drugs Czar, like they have in Mexico, with a cabinet rank that will superintend over the drugs fight.
"I can vouch for Nana Addo that it is from the depth of his soul when he says he sought the presidency not to enrich himself, but to serve the people of Ghana. Believe me, he means it, not because I am a party man, but I see he is passionate about it. He will be very firm in his fight against corruption and the scourge of drugs. It is not lip-service as you will find out.
"Even during the Rawlings rule, the drugs trade flourished, and if you evaluate The Chronicle in the 1990s you find so many stories on drugs and corruption in high places. Yet, they used kid gloves in tackling the drug barons.
"You will see that it is now almost impossible to get bail on drug-related offences. It is the system that has been installed, and the quality of people who will be appointed.
"I did a lot of work on the drug trade during my time with The Chronicle. I worked with the UK and the Drug Enforcement agency on some cases."
Frank Benneh and the evolution of drugs ala NDC; "The PNDC/NDC harboured drug cases and corruption that has remained hidden till today."
Way back in 1982, there was a case that ensnared Messrs Ahwoi and J. Abbey at the outset of the administration that remains unresolved till today - The Willowbrook scandal that went right up to the British Supreme Court. The story of Barclays Bank versus Willowbrook International, Castle Hughes International Farms Limited and Castle Hughes Farms (Supreme Court of Judicature of England, Court of Appeal from the court from the High Court, Chancery Division). That case would rouse them and occupy them till the elections are over. If they want, I should get into the case and they should, continue to disturb me. I am warning Radio Gold's management, led by Mr. Baffoe Bonnie, that he should let me be, otherwise …"
Kofi Coomson revealed that the Frank Benneh's case was steeped in drugs. "It was a case that was steeped in drugs when he was an AI Officer working for the external intelligence, and part of his functions was shopping for Rawlings' suits whenever he visited France or Brussels."
He said he would like to also set the records straight because he can, as the NDC propaganda Chief Fiifi Kwetey normally does.
He said there was no question that Mr. Frank Benneh (brother of the former Vice Chancellor of the University of Ghana) was used by NDC and exploited his vulnerabilities, and having finished him, they brought him to Ghana, and wasted him.
Kofi said it must be the hand of God that intervened in the case, "when Mr. Benneh himself made unsolicited overtures to me one day in my office.
"He said he had something to tell me, and the way I saw him I told him that he needed help more than me. When he agreed after some time, there began a long period of caring for him, taking him to Mampong Akwapim to a prayer camp, to Dr. Lamptey's clinic at Dzorwulu in Accra, where he was admitted for about three to four weeks, where he went through detoxification, known in the business as 'cold turkey'.
"Meanwhile, his employers, the Ministry of Foreign Affairs, had ceased paying him. The man, who was at the helm and pushing the trial, was Dr. Obed Asamoah, who is today asking for the votes of Ghanaians.
"In the midst of the concurrent trial of Benneh and myself, the NDC government again pounced on him for one offence or the other, and took him to the police station.
"I had cooperation from inside very much, and on one of such arrests, he was threatened to implicate me, and that was when he dropped the bombshell. He gave me a copy of the letter freely written of his own volition. My jaws dropped myself. I showed it to my lawyers, then from two firms – Nana Akufo-Addo and Messrs Professor Ofosu Amaah." At the time Benneh was arrested, Kofi recounted that his passport was seized and lodged with the Court Registrar at His Lordship Justice Ofoe's Court at Cocoa Affairs.
"Frank Benneh was brought down by a senior intelligence official and put up in a hotel instead of police cells. That was when I began to smell a set up.
"I made a detour to Geneva and went to the newspaper house that broke the story, The Geneva Tribune, to see copies of the paper and exchange information about Frank Benneh, who was then with the Ghana Mission at the United Nations, next in rank to Ambassador.
"Having satisfied myself that the Government of Ghana refused to allow a trial in Geneva, it was plausible to assume that they wanted to seal his mouth and debrief him before sending him down. Astonishingly, they sent a very senior intel man, Mr. Quantson, to fly over and bring him to Accra.
"If they wanted to prosecute him, as they profess to, they would have done so, because the Swiss authorities had a water-tight case against him. I stayed there and made some interesting contacts."
For the records, 15th June 1998 I, Frank Benneh, am giving this statement out of my own free will. I was not coaxed to write the underlisted statement. I have full and absolute control of my mental faculties. My motivation has been dictated by my desire to see justice done. I wish to state that I read The Ghanaian Chronicle's articles relating to me as a go between for government to traffic in drugs and the proceeds thereafter channeled into arms purchase and wish to confirm that the stories were essentially true.
In this connection, following a meeting with the underlisted personalities today, 15/6/98,
a) Mr. Martin Amidu, Deputy Minister of justice b) Mr. Alhijah, Dep. Director/Public Prosecution c) Mr. Amonoo-Monney, Director/Public Prosecution d) Mr. Laryea, Dep/Minister, Min of Foreign Affairs e) H. E. Dansoh, Ghana's High Commissioner to Malaysia f) DSP Amoah during which I was prevailed upon to be a government witness. I indicated that I wasn't ready to assume such a mantle. I was consequently given up to Wednesday 17/6/98, to consult my lawyer and family before making up my mind. My mind is already been made up and it is a categoric NO to be a, government witness. Signed Frank Benneh.
The Chronicle at the time bannered a story titled 'DRUGS, BLOOD AND GUNS,' which at the time alleged that the then government was dealing with Benneh in such atrocious transactions, and the newspaper indicated that the proceeds from the sale of drugs were then used to furnish the Commandos, which was denied by the then Government.
The production of Benneh's handwritten letter leaves very little room for doubt as to why the National Democratic Congress have very little moral authority to pontificate on drugs and its deleterious effect of people.
The Geneva Tribune correspondents, who spoke to Kofi, expressed shock as to why Benneh should be flown home on diplomatic cover and escape justice. He was their man."