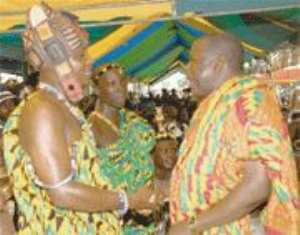 > Land Shouldn't Be Barrier To Development
Welcome, Your Excellency. This is what Togbe Afede XIV (left), Agbogbomefia of the Asogli State, appears to be saying as he exchanges pleasantries with the Vice-President, Alhaji Aliu Mahama, who was the special guest of honour at the Asogli Yam Festival Vice-President, Alhaji Aliu Mahama, says government will make sure that land does not become a stumbling block to the drive to attract investment and commercial opportunities.
Addressing a durbar of chiefs and the people of Asogli State as part of activities marking their annual Yam Festival in Ho at the weekend, the Vice-President made reference to the challenges being faced by the Asogli State in accessing land elsewhere to undertake a huge energy production project to augment the national electricity supply.
The festival was on the theme "Attitudinal Change For Development Over The Next 50 Years".
"I will want to assure our traditional authorities that they will be fully involved in efforts that seek to modernise land administration in Ghana. As custodians of the land on behalf of the people, their co-operation is very important to the success of such initiatives," the Vice President stressed.
The Asogli Yam Festival, which is celebrated annually as a prelude to the harvesting of new yam, is to thank God for his protection and guidance during the hectic period of yam cultivation.
The grand durbar of chiefs and people, therefore, saw a flamboyant exhibition of culture and tradition as chiefs sat in state in their full regalia with attendant cultural displays and mystical performances that underpinned the cultural heritage of the people of Asogli.
Alhaji Mahama made it clear that the government would spare no effort at consolidating "the solid macro-economic foundation laid for accelerated socio-economic growth".
Speaking on the theme, Togbe Afede XIV questioned whether the dreams of the founding fathers of the nation had been realised, asking, "Why have, after 50 years, poverty, ignorance and disease remained the lot of the majority of our compatriots?"
Togbe Afede commended the government for venturing into producing a 2057 budget but advised that the calculated or forecast GDP and GDP per capita be given a closer look.
"Did I hear US$5,434.38 trillion GDP and US$60,000 per capita GDP? Maybe US$6,000 is what was intended. Also, maybe a long term Infrastructural Development Plan is what we need urgently," he suggested.
He entreated the nation not to delude herself in the fact that the country's most important development challenges were external.
"Neither is debt cancellation, currency re-denomination nor oil discovery the solution to our problems. Our development aspirations will prove illusive unless we change our attitudes," he pointed out.
Story by Charles Benoni Okine
& Victor Kwawukume
search archives
Keywords:    
 Issue date:    
  ·  Type either Keywords, Date or both.
  ·  Date examples: 5/30/02, >5/30/02
http://www.gse.com.gh
Weather Forecast | Weather Maps http://www.accuweather.com/index-forecast.asp?partner=netweather&traveler=0&zipcode=AFR http://www.accuweather.com/maps-satellite.asp?partner=netweather
CurrencyConverter
^Top #top
  Copyright © 2008   Graphic Communication Group Limited .  All rights reserved.   http://www.bulletlink.com ^Top login.asp #top