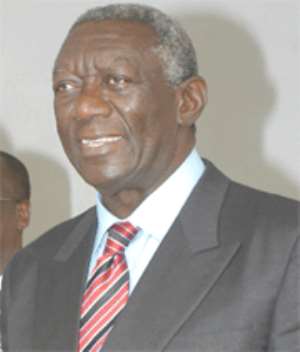 President J.A. Kufuor yesterday cut the sod for work to begin on the construction of a cancer treatment centre at Katamanso in Accra.
When completed, the centre will provide cutting-edge techniques for the treatment and management of cancer.
The first phase of the project, which will cost $10 million, is expected to be completed in three years.
The facility, to be known as the Sweden-Ghana Cancer Care Centre, is a private venture and the brain child of Mr Goran Hellers from Sweden, will offer comprehensive care to Ghanaians and people from other parts of West Africa.
The first phase will comprise an out-patient centre, which will offer general practice and specialist consultations, a pharmacy, chemotherapy, radiotherapy, laboratory testing, X-ray, ultrasound and scanning services.
The second phase will see the addition of Gamma-knife technology for neurosurgery and an even more advanced radiotherapy, while the third phase will involve the construction of a hospital.
President Kufuor said cancer is a deadly disease and any effort towards its treatment and management is certainly a source of joy to all Ghanaians.
He said the government alone could not shoulder the responsibility for taking care of all the health needs of Ghanaians and for that reason any effort by private entities or public-private collaboration in the health sector to complement the government's initiatives was welcome.
President Kufuor urged the health facility "not to let the profit motive overshadow its nobler mission of serving mankind through healthcare delivery."
"It should manage its charges in a manner that would not keep its services beyond the reach of ordinary patients," he admonished.
While underscoring the need for the centre to charge moderate fees, President Kufuor urged the populace to sign onto the National Health Insurance Scheme (NHIS) to be able to take advantage of the modern facilities and treatment now available to policy holders.
Mr Hellers, who is the founder of the centre, said cancer cases in Ghana were projected to hit about 100,000 in 25 years' time and that it had therefore become important to introduce cancer care in the country.
He added that the comprehensive cancer care envisaged by the centre involved early detection of the disease and the application of radiotherapy, chemotherapy and surgery to treat and manage the disease.
Dr W. O. Brakohiapa, Chairman and Examiner of the Radiology Department of the Ghana College of Surgeons and Physicians, said cancer cases were gradually becoming a major health problem in the country.
He said further that high consumption of animal fat, lack of exercise and smoking were some of the factors responsible for the incidence of cancer in the country.
Dr Brakohiapa underscored the need for expansion of health service to check that looming danger.