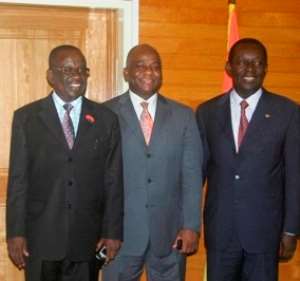 Hon Kan Dapaah, Minister for Defence poses with Liberian Minister for National Defence, Mr Brownnie j. Samukai jr. (Middle) and Hon Addo kufuor, Minister for Interior (Right)
The Liberian Minister for National Defence, Mr Brownnie j. Samukai jr., last Thursday, paid a courtesy call on Ghana's Minister for Defence, Mr Albert Kan Dapaah at the Burma Camp in Accra.
The visit was to express Liberian Government's gratitude to Ghana Government for the support of security reform in Liberia during and after the war.
Mr Kan Dapaah, noted that security was very paramount in every country, saying 'the crucial need of Armed Forces and the role they play in the growth of an economy ought to be recognised and ensure that proper measures are put in place in order to make the sector vibrant.'
He said no country could be poised of doing serious business if there is no peace and stability in that country, since peace and stability are the bedrock of investors who will like to do business in any country.
Ghana is committed in ensuring that there is peace in the country before, during and after the december general elections so that the peace Ghanaians are enjoying can beckon investors into the country to do businesses which can generate employment to the people of Ghana, the Minister stated.
According to him, Ghana can help Liberia to develop their own Armed Forces. 'Ghana and Liberia Armed Forces are cordial and are always ready to assist when the need arises,' he said.
After a tour of Burma Camp, the Liberian Minister for Defence, observed that 'Ghana is doing well in terms of equipment. Ghana has shown professionalism across the sub-region,' he added.
He said the visit will help deepen the existing relationship between the two countries and that possibilities will be considered to see how best the two countries can come together to share experiences.