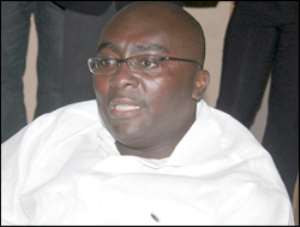 Some politicians often get away with unsubstantiated allegations and submissions which they make on campaign trails or podiums. It is as if there is a certain immunity being reserved for them when they stand on political platforms to speak to their constituents.
While some of them seek to tarnish the reputation of their opponents with spurious allegations, others rubbish claims made by those on the other side of the polarized divide.
By and large these verbal attacks do not mean much because they lack merit or substance, no wonder they are regarded as political talk especially when they emanate from politicians whose desperation for power defies decorum.
Such effusions go a long way to give politics the bad image which has been associated with it in some quarters.
In the realm of economics the opportunity of getting away with such wild allegations and statements is totally non-existent because every claim must be scientifically proven with appropriate figures.
Indeed such presentations have nothing to do with voodooism as some politicians would seek to do.
A few days ago a leading figure of one of the political parties decided to ignore economic indices or figures and churned out unscientific statements as a way of enhancing the image of his political grouping.
The bottom-line of his tantrums was that the economic journey of the incumbent administration cannot be true.
With no scientific basis to his argument all we can state is that such illiterate presentations do not serve the interest of the country.
In a modern world where the norms of intellectualism are steeped in science and nothing more, we were taken aback by the man's lack of respect for the truth and the scientific figures on the ground.
Adequate figures abound to buttress the success story of the management of Ghana's economy. We do not think it would be too difficult to find out these figures from such places like the Ministry of Finance and Economic Planning, Bank of Ghana and other relevant establishments.
Only economic figures and nothing else are the proven and acceptable means of finding out how well the economy of a country is doing.
Measuring such progress through sentiments or how much people have in their pockets is not the scientific way of doing it.
Inflation and other economic developments such as the performance of a stock market are calculated at a certain frequency to gauge the health of the economy.
The procedure is done according to laid down scientific methods and not the whims and caprices of a disgruntled element sulking somewhere over lost power.
The performance of Ghana's economy in relation to what it was before 2001 was not good and one does not need to be an economist to know this.
Dr. Mahamudu Bawumia, a former Deputy Governor of the Bank of Ghana and now running mate to the New Patriotic Party (NPP) presidential candidate made an important disclosure about the state of the economy in pre-2001 times.
According to him it was on the verge of collapse. It is therefore amazing when educated persons out of desperation for political power get too economical with the truth by presenting fiction as facts. Such voodoo method of dealing with economic issues when the scientific approach is the norm cannot be acceptable by all standards in a modern world of which Ghana is an integral part.