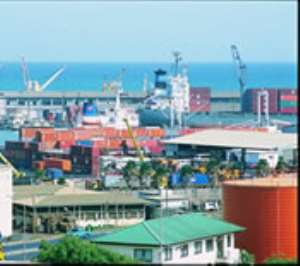 The Ghana Ports and Harbour Authority (GPHA) has allegedly blacklisted the Ghana Association of Stevedoring Companies (GASCO) and six stevedoring companies from being allocated stevedoring berthing at the Tema Port.
The affected private stevedoring companies are to be denied the right to the allocation of stevedoring berthing until the final determination of a case pending in court.
Subsequently one of the companies that was to be allocated a vessel on Monday lost the right to Carl Tiedemann Stevedoring, a private stevedoring company that is not a member of GASCO.
GASCO and the six companies namely Golden Gate Services Limited, Odart Stevedoring Company Limited, Advanced Stevedoring Company Limited, Speedline Stevedoring Company Limited, Dashwood Shipping Agencies Limited and Fountain View Limited jointly sued GPHA and Meridian Ports Services Limited (MPS), a foreign company.
The companies, in a joint action on October 15 at the Commercial Division of the High Court, Accra, issued the writ of summons to compel the court to place an injunction restraining GPHA and MPS from limiting their (stevedore companies) operations on Berths Three, Four and Five of Quay One among other claims.
Members of the association told the Ghana News Agency that they were informed on Monday morning during the usual Berthing Meeting that management of GPHA had ordered that none of the companies involved in the suit should be allowed stevedoring berthing.
According to them, the Acting Chairman for the meeting who they named as Mr Smith allegedly told them that "it is an order from above".
Madam Josephine Nkrumah, President of GASCO who confirmed the blacklisting, said they would petition Professor Christopher Ameyaw Akumfi, Minister for Ports, Harbours and Railways to withdraw the decision of GPHA and that they would take the necessary action should the Minister refuse their request.
Efforts to reach management of the GPHA have proved futile as they were said to be at a meeting.